Master of Public Administration The UConn Master of Public Administration (MPA) program provides students with the skills to excel in the field of public affairs. Our graduates are leaders in nonprofit organizations and in government at the national, state, and local levels. Their successes contribute to our School's national reputation and our ability to attract high-caliber students from around the world.
UConn MPA students earn an exceptional education from the only Connecticut school accredited by NASPAA, the global standard in public service education. They're also eligible for our Internship in Professional Practice, which provides a paid internship and full-year tuition scholarship with a top Connecticut state agency, municipality, or nonprofit organization.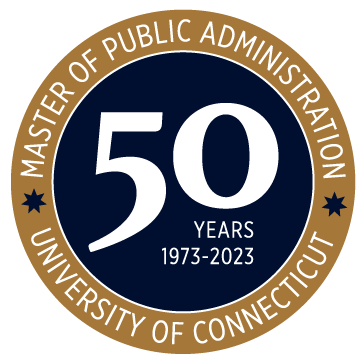 8th
National ranking of public finance and budgeting programs, U.S. News & World Report
39th
National ranking of public affairs programs, U.S. News & World Report
Model of Course Sequences
---
Frequently Asked Questions
General
What is a Master of Public Administration degree?
A Master of Public Administration (MPA) degree will prepare you for leadership roles in government and nonprofit organizations by teaching you how to diagnose problems, collect and analyze information, choose among policy options, communicate findings, implement programs, and manage change. These skills are developed through an intensive quantitative, analytical, and managerial framework.
What can I do with a MPA degree?
Alumni of UConn's MPA program work in governments at the local, state, and federal levels in a variety of policy areas, hold elected office, lead and manage nonprofit organizations, and conduct market research, among many other positions. Learn more about UConn's MPA alumni by visiting our SPP Alumni page.
Where are your graduates employed?
Our graduates work in local, state, and federal government, as well as in non-profit and private organizations. Alumni hold a wide variety of positions at all organizational levels such as budget analysts, bond ratings analysts, human resource managers, program administrators, policy analysts, program evaluators, and survey researchers. The table below presents job placements for MPA graduates in 2019-2021 based on the employment categories from our accrediting body, the Network of Schools of Public Policy, Affairs, and Administration (NASPAA). Employment Statistics for MPA Graduates in 2019, 2020, and 2021:
| Employment Sectors | 2019 | 2020 | 2021 |
| --- | --- | --- | --- |
| National or Central government in the same country as the program | 0% | 6% | 0% |
| State, provincial or regional government in the same country as the program | 9% | 35% | 31% |
| City, County, or other local government in the same country as the program | 25% | 18% | 20% |
| Government (all levels) or international quasi-governmental | 0% | 0% | 0% |
| Nonprofit domestic-oriented | 19% | 27% | 22% |
| Nonprofit/NGOs internationally-oriented | 0% | 0% | 15% |
| Private sector-Research/consulting | 3% | 2% | 2% |
| Private sector but not research/consulting | 22% | 8% | 2% |
| Obtaining further education | 9% | 0% | 2% |
| Military Service | 3% | 0% | 0% |
| Unemployed (not seeking employment) | 0% | 0% | 0% |
| Unemployed (seeing employment) | 3% | 0% | 2% |
| Status Unknown | 6% | 4% | 4% |
How long does it take to complete the MPA program?
The MPA curriculum can be completed in two years on a full-time basis if starting in the fall semester. The program can be completed in three years on a part-time basis if the student is able to waive the internship requirement.
Where are classes held?
The School of Public Policy office is on UConn's Hartford campus. Classes are held on the University of Connecticut's Hartford and Storrs campuses.
Can I work full time while completing my MPA degree?
Yes. The program does not encourage students to work full-time and take a full-time course load. The number of MPA courses you take will depend on your individual needs to balance courses, work and life.
Academics
What is the MPA curriculum?
The program is built around core courses, electives, an internship and a Capstone portfolio. Detailed curriculum information can be found above.
Is there an internship requirement?
Yes. The MPA and MPP program requires six internship credits. Internships can be completed at any time during enrollment, however students are encouraged to apply for the Internship Professional Practice (IPP) Program, which normally takes place in the second year of full-time study. These credits can be waived with permission from the school if relevant and significant past work experience satisfactorily meets learning objectives.
Can I earn two degrees at the same time?
Yes, programs that students have pursued simultaneously with the MPA include the following:
International Studies (MPA/MA)
Law (MPA/JD)
Public Health (MPA/MPH)
Social Work (MPA/MSW)
Survey Research (MPA/MA)
How many graduate credits can I transfer from another institution?
Students may transfer up to 6 credits from another institution with the school's approval.
Will I have an advisor?
Yes. Upon entering the program, the Graduate School will assign you a faculty advisor; however, the Director of Student and Academic Affairs should be considered your first point of contact. Advisors and the program directors help students prepare course schedules and plan for careers after graduation. You can change your advisor at any time by contacting the Director of Student and Academic Affairs.
Admissions
What is required to apply to the MPA program?
Applicants are expected to submit the following to the Graduate School's online Slate system:
Completed online application
Personal Statement
Unofficial transcripts (for review, once accepted official transcripts must be sent)
Current Resume
Two letters of recommendation (one letter for executive track)
$75 application fee
For non-native English speakers, TOEFL, IELTS, or the PTE exam scores are also required.
Is the GRE required?
Beginning with the fall 2022 application cycle, the GRE is not required; however, the admissions committee will be looking for evidence that the applicant can successfully complete all necessary coursework, which requires strong writing and analytic/quantitative skills. If an applicant's record of prior coursework does not demonstrate these abilities the applicant might benefit from submitting GRE scores or having recommendation writers specifically address such skills in their letters. With questions about the GRE please email us at spp@uconn.edu.
What are the GRE codes?
The GRE codes are: Institutional Code = 3915, Program Code = 1903
How can I submit my GREs?
The GRE's can be submitted in the following manners:
Using the GRE codes to have the scores sent directly to the Public Policy School at the University of Connecticut is the best method to send your scores to us. After you take the test, it will be approximately 4 weeks for your scores to arrive to us.
Calling the Administrative Program Director to report directly what your GRE scores are. As a test taker, you will receive the results of your verbal and quantitative GRE sections immediately following your test. All scores are verified upon acceptance of admission. This option may be particularly useful for test takers who can only schedule their exam close to the February 15th deadline.
Sending a PDF or JPG of your scores. All scores are verified upon acceptance of admission.
What is the deadline?
For fall admission the priority deadline is February 15. The final deadline for fall is May 15. For spring admission the deadline is November 1.
Is work experience a requirement for the MPA program?
Prior work experience is not required. A strength of our programs is the diversity of experience that students bring to the program. Students range from recent college graduates with some internship or volunteer experience to senior-level professionals.
Can I begin the MPA as an undergraduate student?
Yes, if you are a University of Connecticut undergraduate student and have a least a 3.3 cumulative GPA. You can apply to the Fast-Track program and being taking MPA and MPP courses while an undergraduate student. If accepted into the Fast-Track program you will still need to apply to the MPA or MPP program.
What are your admission statistics?
Undergraduate GPA (Middle 50%): 3.40-3.71
Average Class Size: 27
Average Verbal GRE Scores: 153
Average Quantitative GRE Scores: 156
Average Age of Students: 27 (regular track); 39 (executive track)
% Female: 62
% Full Time: 80
Is there a minimum GPA or GRE score required for admission?
Please see the Graduate School's Admission Requirements regarding GPAs on your official transcript. The Admissions Committee holistically reviews all components of an applicant's application.
Who should write my letters of recommendation?
Your letters of recommendation should be written by people who know you and your work very well. Your writers may be current or past supervisors, college professors, or professional colleagues. For current and recent undergraduates we recommend they are from recent professors.
How do I submit letters of recommendation and transcripts?
Letters can be uploaded to the application by the recommending individual when prompted via email from the application system. Or they can email spp@uconn.edu directly to submit their letter. Letters can not be received directly from the applicant.
Can I defer my admission?
Yes. Admission can be deferred for up to one year. You must communicate your intention via email to spp@uconn.edu prior to the first day of the semester.
Should I plan to visit campus?
We encourage you to visit the campus, meet with faculty and students, and attend one or more classes. Visit our Information Sessions page for more information or email spp@uconn.edu.
Cost and Financial Aid
How much does the MPA cost?
Tuition and fee schedules for the MPA and MPP programs can be found on the Office of the Bursar's page for graduate students. Please note that students pay an adjusted General University Fee because the School of Public Policy is based at the UConn Hartford campus. Students also do not pay the Student Health & Wellness Fee or the Student Rec Center Fee.
Can I take a course as a non-degree student first? If, so, how much does that cost?
Yes. You can take up to 6-credits with our School before applying to the MPA program. If it is within 5 years, the 6-credits can later be transferred into your program to count toward your degree. You should consult with the Director of Student and Academic Affairs or the Graduate Program Director on what courses are best for your non-degree study. The cost of non-degree study for 2023-2024 with the School of Public Policy is $1,000 per credit, all-inclusive for tuition and fees.
What type of tuition, financial or graduate assistantship opportunities do you offer?
Need-based financial aid is administered through the University of Connecticut Office of Student Financial Aid Services. Please visit their website for further financial aid information. For information about financial support from the School of Public Policy, please visit our Cost and Financial Aid page.
Student Life
What extracurricular activities are available?
There are many opportunities for students to get involved in the UConn community outside the classroom. The School of Public Policy, the Graduate Association of Public Policy Students, Pi Pi Alpha, and the Connecticut Chapter of the American Society for Public Administration offers social, professional development, and public service events throughout the year.
What are my housing options?
Enrolled students live in and around Hartford or commute from further distances around the state. There is no on-campus housing available. UConn's Off-Campus Housing page provides a variety of resources and information.
What are my transportation options?
Most students at UConn's Hartford campus travel by car or public bus transportation. The student parking lot is located in the Connecticut Convention Center Parking Garage. Please visit the Hartford Campus' Parking Services site for more information. The Connecticut Department of Transportation also offers bus service in and around the Hartford area. In-person students have the opportunity to obtain a U-Pass which allows students to ride buses and trains in Connecticut for free.
Will I have the opportunity to meet alumni?
Yes. Alumni of the MPA program are engaged with current students. They routinely organize and attend events for current students. All students are also assigned to an alumni mentor.