The Department of Public Policy (DPP) was happy to welcome over 80 new students to our graduate programs this fall semester. We have had a fantastic 3rd Annual Welcome Reception following New Student orientation on Thursday, August 22nd. At the reception, our new students not only had a chance to get to know each other but to meet the faculty, staff, alumni, and dear friends of the department. Over 150 people were in attendance!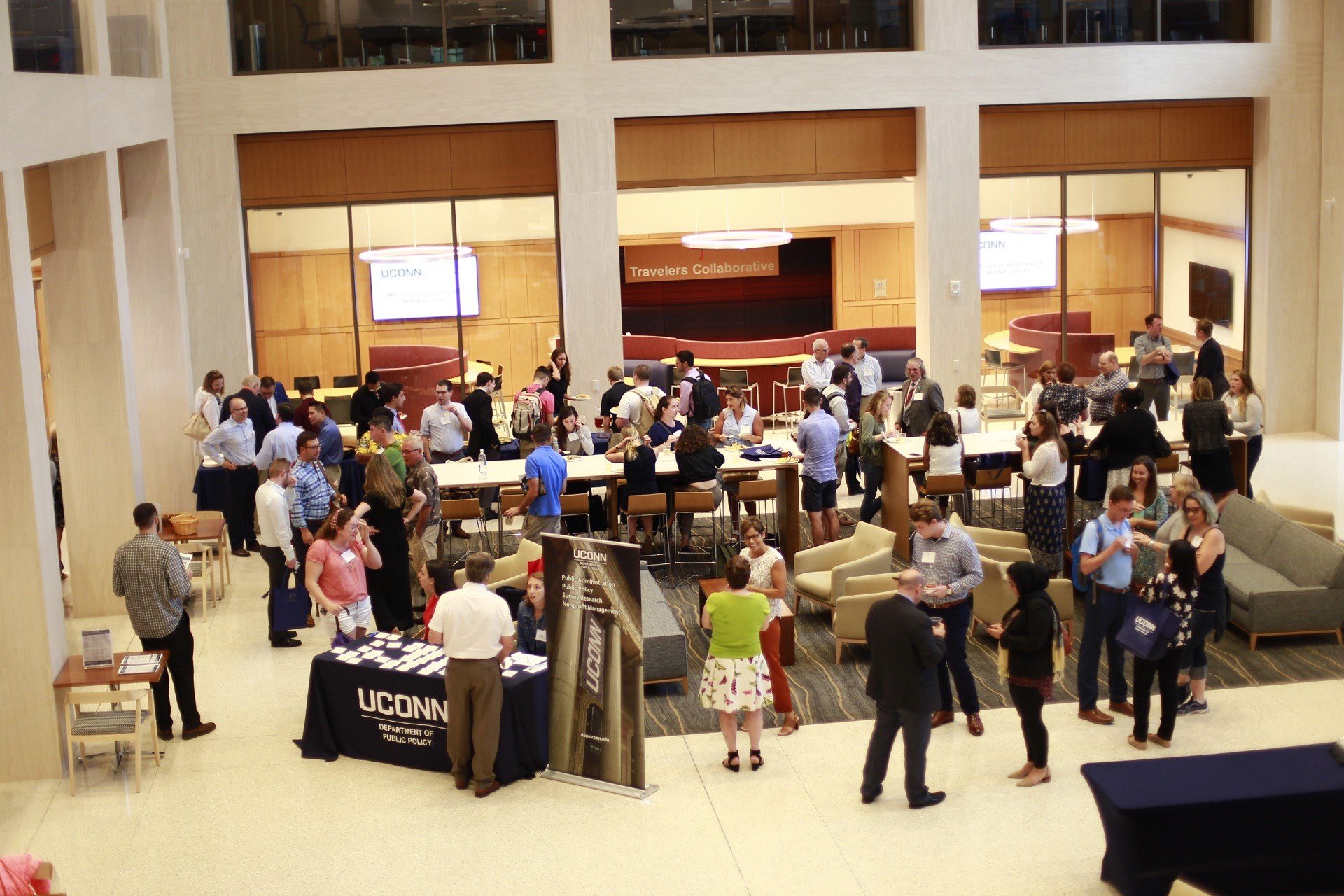 Monday began the first official week of classes at UConn. The DPP was busy all week, with over 35 courses taught this semester in Hartford, Storrs, and online! Our new students had an eventful week, starting with either Introduction to Public Policy and Management in Storrs with Professor Raissian or Applied Quantitative methods with Dr. Wilson in Hartford. Additionally, DPP is offering an exciting wide variety of MPP and MPA electives this fall, with options ranging from Social Policy, Diversity Planning and Policy, and Public Investment Analysis, to name a few!
On Wednesday this week, UConn Hartford hosted a Taste of Front Street event to welcome new and returning students. Ted's Montana Grill, Bear's Smokehouse BBQ, Blind Pig Pizza, Rush Bowls, Spotlight Theater Front Street, Starbucks, and El Pollo Guapo provided tasty treats and entertainment.
It is our great pleasure to introduce officers of the GAPPS-ICMA. The President of the Association, Carol Miranda, is an MPP student whose career aspirations are concentrated around lobbying or working with data and policy analysis. Vice President Rachel Dzialo is an MPA student who is interested in criminal justice policy and re-entry services. Treasurer Haley Turner Gillman is an MPP student who hopes to focus her career in consulting and program evaluation.  Secretary Steven Della-Giustina is an MPP student with a career focus in political organizing. We are excited to see what our GAPPS-ICMA Officers have in store for us this year! If current students are interested in joing GAPPS-ICMA or learning more about the group, please join their first meeting on Monday, September 9th at 3PM in HTB 406.
Each academic year, the Department of Public Policy front desk is staffed by DPP students. This year, we are happy to welcome three new Student Administrative Assistants! Haley Turner Gillman is an MPP student who received her B.A. in Sociology from the Saint Anslem College. Olena Nagorna is an MPA student who graduated from UConn Stamford with a B.A. in History. Alexandra Thomas is an MPP, and a graduate of the UConn Storrs, she received her B.A. in Political Science. They are in the office from 9 am – 4 pm every weekday and more than happy to assist. Stop by and say hello!