Alumni Panels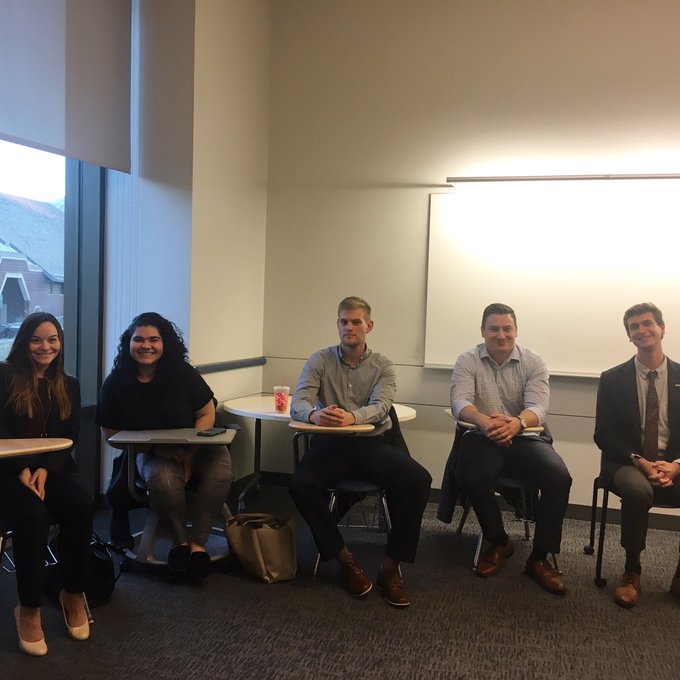 The DPP kicked of professional development for the 2019-2020 academic year with two alumni panels in October. Panelists shared how they chose their program, the skill sets they utilize from the DPP everyday, and the DPP resources they utilized to be successful.  Our panels consisted of 2018 and 2019 graduates including:
Ashley Bodamer

(MPA 18') a Program Manager for Hartford Healthcare

Andrew Bolger (MPP 18′)  a Data and Research Analyst for Connecticut Housing Finance Authority

Yahaira Escribano (MPA 19') a Partner Program Coordinator for Foodshare

Jameson Foulke (MPA 18′) a Special Assistant to Senator Christopher Murphy

Philip Hnatowicz (MPP 18′) a Marketing Associate for Fiduciary Investment Advisors, LLC

Josh Kelly

(MPA 19') the Town Administrator for the Town of Bolton

Nicole Tomassetti

(MPP 18') a Lobbying Associate for Capitol Strategies Group
"Five Steps to Accelerate Economic Growth in Connecticut
Moderated by Jay Williams, the President of the Hartford Foundation for Public Giving, this luncheon had both panelists and reactors discuss the initiatives Connecticut should take to accelerate economic growth.
The panel included economist Peter Gioia from

CT Business and Industry Association, State Budget Report Keith Phaneuf from CT Mirror, and Interim Dean David Souder from UConn School of Business. 

Reactors included 9th House District Chair of the Finance Revenue and Bonding Committee Representative Jason Rojas, Deputy Commissioner of the CT Department of Economic and Community Development Glendowlyn Thames, and Vice- President of Budderfly Inc. and Past President CT Technology Matthew Nemerson.
21st Century Job Search
UConn DPP alum and global human resource executive Anne Alzapiedi hosted a professional development seminar on navigating the "21st Century Job Search". Anne's human resource experience as the Senior Human Resource Leader for GE Capital Operations and Information Technology have made her a popular resource among our students and alumni. 
Data Translation
Dr. Lindsey Leininger, a Clinical Professor of Business Administration at the Tucks School of Business at Dartmouth College visited the DPP in order to talk about what it means to be a "Data Translator". She discussed how our students and alumni can best facilitate data work in leadership roles. During her stay, she also presented her work on health care experiences and expenses of vulnerable, high-need populations.