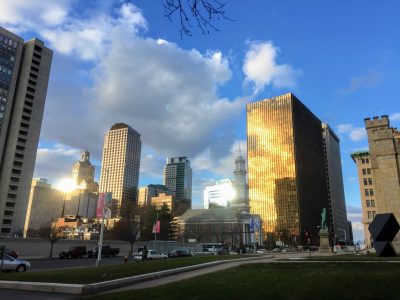 The Department of Public Policy (DPP) recently launched three new focus areas to allow Master of Public Administration (MPA) and Master of Public Policy (MPP) students the opportunity to specialize, and to support, the public service labor force in Connecticut and beyond. These focus areas were launched as of Fall 2020.
The three new focus areas include "State and Local Government Management," "Public Policy, Diversity, and Inclusion," and "Urban Planning." MPA and MPP students will also be able to specialize in six other existing focus areas in:
Executive Leadership (Fellows only)
Nonprofit Management
Social Policy
Survey Research
Public Financial Management
Public Policy (MPA only)
The new focus areas will allow students to better serve their communities after they graduate.
"State & Local Government Management"
DPP alums serve in various capacities in towns, cities and state agencies across the country. In our class of 2020, more than 20% of our graduates currently work for a State Agency. In the last three years DPP alums have been placed in five of Connecticut's eight geographic counties. From New York City, New York to Fort Worth, Texas, and from Portland, Oregon to South Fulton, Georgia, DPP alums are serving local and regional communities across the country.
Coursework in this focus area includes:
PP 5363: Administrative Functions of Local Government (required)
PP 5317: Capital Finance and Budgeting
PP 5349: Public Procurement and Contracting
PP 5368: Performance Management and Accountability
PP 5350: Urban and Regional Policy
"Public Policy, Diversity, and Inclusion"
The DPP has always been committed to diversity and inclusion. This focus area equips our graduates across sectors with important skills to manage diverse organizations and deliver services to communities with differences in ethnicity, race, socioeconomic status, gender, religion and sexual orientation.
Coursework in this focus area includes:
PP 5304: Public Policy, Diversity, and Inclusion (required)
PP 5346: Child and Family Policy
PP 5303: Race and Policy
Other courses as approved from POLS, SOCI, WGSS
"Urban Planning"
DPP alums work across the country to achieve the strategic, policy, and sustainability goals of municipalities and regional governments. They serve in areas focusing on transportation, land-use, zoning, economic development, environmental planning, and transportation planning.
Coursework in this focus area includes:
PP 5348: Urban Planning Principles and Methods (required)
PP 5363: Administrative Functions of Local Government
PP 5317: Capital Finance and Budgeting
PP 5350: Urban and Regional Policy
Other courses as approved from GEOG and LAW