Build on your undergraduate degree in Economics and obtain the advanced skill sets needed to assess, evaluate, and recommend policy alternatives. Our students learn to judge policies and programs, plan and evaluate alternatives, and implement changes. They look at the role of economic and political factors in decision-making and policy formation. Utilizing statistical methods, students learn about resource allocation and decision modeling. Econ majors are also able to build upon their knowledge of microeconomic analysis in terms of policy options and issues as well as cost/benefit analysis.
Alumni Spotlight: Hannah E. Casey, Environmental Specialist in Corporate Governance and Sustainability for Dominion Energy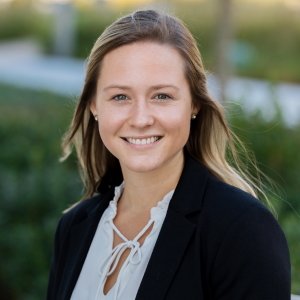 Hannah E. Casey, MPP 2019, is currently working as Environmental Specialist in Corporate Governance and Sustainability for Dominion Energy. Some of the responsibilities that are entailed in Hannah's position include reviewing reports from ranking agencies, corresponding with investors, and assisting with the publication of their annual Sustainability and Corporate Responsibility Report.
Throughout her undergraduate career, Hannah interned for UConn's Office of Sustainability where she conducted similar tasks regarding rankings and data collection. Hannah interned for Dominion Energy for three years as a biologist intern in the Millstone Nuclear Power Station Environmental Lab in Connecticut, as an environmental compliance intern in West Virginia, and as a sustainability intern in Richmond, Virginia. Those internships exposed her to the relationship between field work/data collection and policy making.
The MPP program equipped Hannah with the skills necessary to analyze and think critically about data, effectively write memos and concise reports, and utilize the varying talents of diverse groups of people.
Hannah worked for the Capitol Region Council of Governments (CRCOG) in Hartford, Connecticut during her Internship and Professional Practice Program (IPP). Her advice for current and future students is to keep an open mind, leave your comfort zone, and always look for ways to improve.
Hannah currently lives in Richmond, Virginia. In her free time Hannah enjoys staying active, exploring Richmond, trying new recipes, and sitting on her porch with friends. 
Job Placement
Budget Analyst positions are growing and help public and private institutions organize their finances. According to the Bureau of Labor Statistics in May of 2019, the annual wages for budget analysts in top industries include:
Federal government

$83,070

Local government, excluding education and hospitals

$72,880

Educational services; state, local and private

$67,760

State government, excluding education and hospitals

$67,230 
Financial Analyst positions are growing faster than average, and they provide guidance on investment decisions. According to the Bureau of Labor Statistics in May of 2019, the annual wages for financial analysts in top industries include:
Securities, commodity contracts, and other financial investments and related activities

$98,690

Management of companies and enterprises

$82,870

Insurance carriers and related activities $

78,850
Management Analyst positions are growing much faster than average, and they make recommendations to improve an organization's efficiency. According to the Bureau of Labor Statistics in May of 2019, the annual wages for management analysts in top industries include:
Professional, scientific and technical services

$91,160

Finance and insurance

$84,940

Management of companies and enterprises

$84,390

Government

$79,720