Welcome to the Department of Public Policy's (DPP) third edition of Teaching Tuesday! Throughout this semester we will be featuring faculty on Tuesdays and teaching you a bit about their lives outside of the classroom. Each faculty featured will be asked a few questions and we will post their responses without a filter. We look forward to sharing our faculty with you and hope you enjoy learning some fun facts that you may not have previously known. Our latest feature is Professor Ruodan Zhang!
---
Question 1: Why did you decide to become a professor?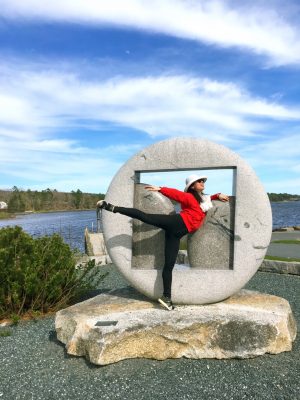 The short answer is that this is such a challenging and tremendously rewarding career, through which I am challenged/empowered to evolve into a better self, and ultimately rewarded with the hope to understand and perhaps to leave the world a better place. I am a cat person, an INFJ (found it out when I was in college, anxious about my career path), a dreamer but highly risk-averse. As it turns out—being a professor fits my personality very well. But I had little idea about what an academic career would mean until I started graduate school at Indiana University (IU). I went down this specific path because I found my role models, Professor Wai-Fung Lam and Professor Helen Liu, during my undergraduate study and really wanted to grow into a person just like them. Lucky for me, both of them studied public/nonprofit management at IU.
Question 2: What are your teaching interests?
I have taught Management Science (at IU), Nonprofit Fund Development and Sustainability, and Quantitative Methods for Public Policy. I am interested in teaching topics including nonprofit management and applied ethics, volunteerism, and nonprofit advocacy.
Question 3: Why did you decide to come to UConn?
Oysters! (Just kidding. But I really miss being so close to the sea.) I enjoyed my campus visit so much and genuinely loved everyone I talked to—faculty, staff, and students. I went back and thought, "That will be my best fit!" and "Please! They have to give me an offer." I am grateful that it worked out.
Question 4: If you weren't a professor, what would you be instead and why?
My answer to this is highly time-variant. But right now, if I were not a professor, I would probably want to be a professional dancer. When I was on the job market, I would half-jokingly tell people, "I'm a single-engine plane with no go-around option. If I don't land, I will immediately start auditioning for dance companies (while continuing my research, of course)." Over the years, I have trained in ballet and Chinese folk dances and learned Latin and West African dances. I am now part of a new virtual dance company (Black Sheep Ballet), which aims to bring dancers of all genders, sexual orientations, body types, skin colors, and disabilities to diverse audiences.
Question 5: What is your favorite thing about Hartford?
With my still-limited knowledge about Hartford, I would say the "Stegosaurus" sculpture by Alexander Calder. It is on my way to work. I have seen three seasons change around it. It also reminds me of IU's Calder sculpture.
Question 6: If you could travel to any location right now where would you like to go and why?
My home in Ningbo, China. I have not been back for over two years now. My list of "food I miss" grows longer every day. Plus, in my humble opinion, we have the best seafood.