Welcome to the Department of Public Policy's (DPP) fifth edition of Teaching Tuesday! Throughout this semester we will be featuring faculty on Tuesdays and teaching you a bit about their lives outside of the classroom. Each faculty featured will be asked a few questions and we will post their responses without a filter. We look forward to sharing our faculty with you and hope you enjoy learning some fun facts that you may not have previously known. Our latest feature is Professor Jennifer Dineen, Director of the Graduate Program in Survey Research!
---
Question 1: Why did you decide to become a professor?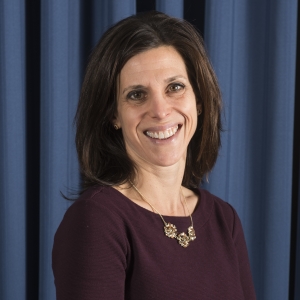 Before college, being a professor was definitely not a career track I considered. I went to college thinking I would either go to law school or work on the Hill. In college I started working in a survey center, which provided amazing applied research experience. I started to understand how the work faculty did outside of the classroom informed what I was reading and discussing in class and how it explained what I was seeing on the news. And the more I saw this happen (seeing scholarship inform policy and politics), the more interested I became in an academic career track.
Question 2: What are your teaching interests? 
Within Survey Research I really like teaching question and instrument design – both for standardized surveys and for qualitative interviews. I also like exploring the relationship between public opinion and policy preferences with students.
Question 3: Why did you decide to come to UConn?  
I came to UConn for graduate school and under a different set of decision marking criteria. Fortunately I was able to stay.
Question 4: If you weren't a professor what would you be instead and why? 
That's a tough one. Maybe an Event Planner. I love coming up with a vision for an event (large or small, personal or professional), thinking about all of the small pieces and decisions that make up the vision, and then seeing it all take shape in reality.
Question 5: What is your favorite thing about Hartford? 
I love the UConn Hartford neighborhood! I live in a very suburban area and you need a car to go anywhere. I really enjoy being in downtown Hartford and having so many great places within walking distance from our campus. Pre-pandemic I loved walking to Bushnell Park, meeting friends for lunch or after work (so many choices!), or popping into Hartford Prints.
Question 6: If you could travel to any location right now where would you like to go and why? 
My list grows by the pandemic minute. I had a lot of travel planned for 2020 so I have a list of cancelled trips to reschedule. Honestly, for a time I thought a lot about all of the places that I want to go, but lately I have been trying to enjoy staying put. I miss hosting friends and family as much as I miss travelling to see them (see my answer to my alternate career plan).
---
Professor Dineen is the Director of the Graduate Program in Survey Research and also currently serves as a co-director of InCHIP's Gun Violence Prevention Research Interest Group (GVP-RIG) with DPP Professor Kerri Raissian and UConn sociology professor Mary Bernstein.