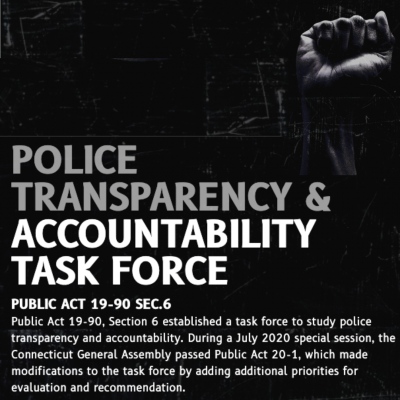 The Institute for Municipal and Regional Policy's (IMRP) Public Transparency and Accountability Task Force (PT&A Task Force) was established by Public Act 19-90 SEC.6 in order to study police transparency and accountability. PT&A Task Force staff includes Ken Barone, Andrew Clark and Renee LaMark Muir.
The Connecticut General Assembly passed Public Act 20-1, which made modifications to the task force by adding additional priorities for evaluation and recommendation.
The Task Force established three subcommittees to advise them on various aspects of its legislative charge in preparation for the issuance of its final report. Each subcommittee is chaired by a Task Force member. The subcommittees are comprised of a minimum of 4 Task Force members and 4 community members.
Public Awareness Subcommittee
Improving Police Interactions with Disability Community Subcommittee
Logistics Subcommittee
The Task Force also adopted 22 preliminary priorities and recommendations organized under 6 pillars on June 16, 2020. These pillars include community policing & crime education, officer wellness & safety, training & education, policy & oversight, technology & social media, and building trust & legitimacy.
Their website provides an opportunity to track the progress of legislation having to do with police accountability and transparency in Connecticut. This includes what has been introduced, what is being debated, and what has based.
Throughout the legislative session, the Task Force provides opportunities for students to provide testimony and participate in listening sessions. They also hold Task Force Meetings on a regular basis. Additional information can be found on their website's All Meetings page.