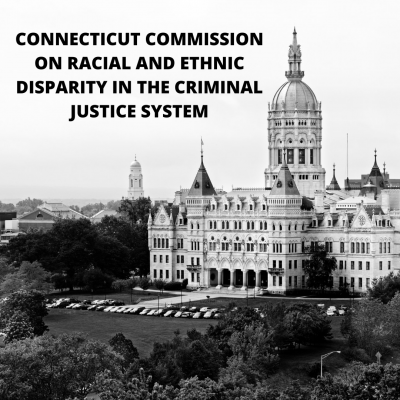 The Institute for Municipal and Regional Policy's (IMRP) Racial and Ethnic Disparity in the Criminal Justice System Commission (REDCJS) was created by the Connecticut General Assembly on October 1, 2000 through Public Act 00-154. Their IMRP project staff includes Aileen Keays and Brittany Kane.
The Commission is a permanent body chaired by the Chief Court Administrator or his/her designee. CT Supreme Court Justice Lubbie Harper, Jr. is the current chairperson for the Commission, whose members began meeting September 4, 2000 and have met bi-monthly thereafter. The Commission's work is directed through a Steering Committee composed of Commission members which meets regularly to set the agenda for the full Commission meetings.
The State of Connecticut Judicial Branch, Purchasing Services Office, released a Request for Proposals (RFP) on August 28, 2007. The duties of the Consultant, as outlined within the RFP, were to provide technical and administrative assistance to the Commission. Several proposals were submitted by individuals as well as agencies. Proposals were reviewed by a team of Commission members who, after lengthy discussion and consideration, chose the Institute for Municipal & Regional Policy (IMRP) at Central Connecticut State University (CCSU) to act as Consultant to the Commission on Racial and Ethnic Disparity in the Criminal Justice System.