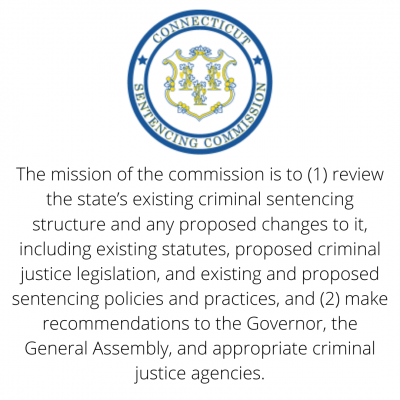 The Institute for Municipal and Regional Policy's (IMRP) Connecticut Sentencing Commission (CSC) was established within the Office of Policy and Management for administrative purposes only. As a permanent sentencing commission, under Public Act 10-129, CSC reviews Connecticut's criminal justice and sentencing policies and laws on an ongoing basis. The Commission chair is Judge Robert Devlin and is vice -chaired by Commissioner John Santa. Alex Tsarkov of IMRP is the Executive Director.
Through a review of existing and proposed criminal sentencing structures, the commission makes recommendations to the Governor, the General Assembly and appropriate criminal justice agencies.
The commission recognizes that:
(1) The primary purpose of sentencing in the state is to enhance public safety while holding the offender accountable to the community
(2) sentencing should reflect the seriousness of the offense and be proportional to the harm to victims and the community, using the most appropriate sanctions available, including incarceration, community punishment and supervision
(3) sentencing should have as an overriding goal the reduction of criminal activity, the imposition of just punishment and the provision of meaningful and effective rehabilitation and reintegration of the offender, and
(4) sentences should be fair, just and equitable while promoting respect for the law.