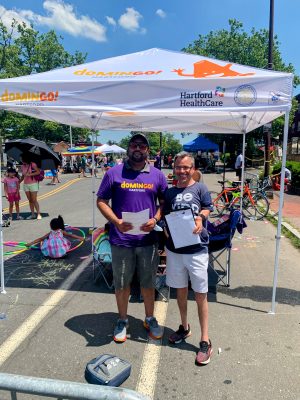 School of Public Policy (SPP) Administrative Coordinator Wade Gibbs recently joined Leadership Greater Hartford's (LGH) Quest 2022. The program unites Wade with other high-performing mid-career professionals from sectors across the region. Together Wade and other participants will engage in experiential leadership training within the Hartford community. They will also identify needs and establish task forces to address them.
Wade first learned about the program from SPP Master of Public Administration (MPA) alum and LGH President and CEO Larisa Kottke. Larisa helped Wade to connect with LGH Senior Program Director Mae Maloney who runs the program.
Alongside more than 30 dynamic leaders, Wade will continue to visit different locations in the Hartford area. So far the participants have learned the "5 Practices of Exemplary Leadership", various networking and communication styles and their Enneagram types. Wade is a #9, making him a Peacemaker.
Wade's task force includes six other participants. Last month they attended DominGO! Hartford, an event that closed off two miles of Farmington Avenue to car traffic. For six hours the route welcomed the community to enjoy fun activities, bike riding, walking, running, live music and local restaurants. The task force will volunteer at July's DominGo! Hartford event on Sunday, July 24th at Park Street. On August 28th they will be volunteering at the Main Street at Windsor Street to Colt Park event.
The task force is also connecting with the City of Hartford and Hartford NEXT, Inc. to build connections in local Neighborhood Revitalization Zones (NRZs). They hope to discuss ways to increase engagement amongst community members and leaders.
We wish Wade and the rest of the 2022 Quest cohort the best of luck. In December we'll loop back with Wade and recap his experience.