The Graduate Association of Public Policy (GAPPS-ICMA) – International City/County Management Association (ICMA) is the primary organization for the UConn School of Public Policy (SPP). Its goal is to serve as a social and intellectual forum for students pursuing a degree or certificate in the School. GAPPS-ICMA is committed to public service, professional development, and having fun. Throughout the academic year GAPPS-ICMA hosts a number of events that enrich students' social and academic experiences.
GAPPS is an International City/County Management Association (ICMA) student organization.
---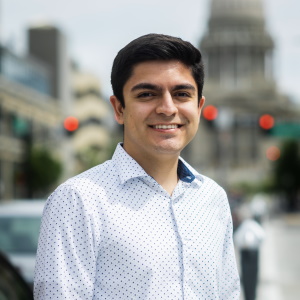 Treasurer Cristian Corza Godinez is pursuing both a Master of Public Administration (MPA) and Master of Arts in Survey Research (MASR).
He decided to run for Treasurer because it seemed like a way to get involved with the SPP network and help organize ways to bring students together. This year with GAPPS-ICMA he's excited about planning events that bring returning and new students together. He says, "our campus benefits from a sense of community, and I am excited to be a part of building it for the upcoming academic year."
For the 2022-2023 academic year, Cristian will be completing the Internship and Professional Practice (IPP) Program as a Policy Development, Research and Analysis intern with Health Equity Solutions. The nonprofit advocates for change through legislation, regulatory actions, and ensuring that decision-makers are aware of key health equity priorities in Connecticut.
When asked about his post-graduation plans, Cristian had this to say,
Above all, I'm dedicated to public service and contributing to our communities. I hope to utilize the skills I've developed within SPP in the public sector and work alongside the many SPP graduates that are already contributing to our communities in Connecticut and across the country.
Since joining the SPP Network Cristian has lived in Downtown Hartford. For those visiting Connecticut's Capitol, he recommends exploring Pratt Street due to it's great food, local shops and huge sense of community!
For incoming students, Cristian has this advice,
I would advise any incoming student to venture out of their comfort zone as much as they can. Whether you're from the area or from out of state, taking advantage of the great events hosted by GAPPS-ICMA and UConn will bring you closer to your peers, faculty, and grant you a well-rounded and fun experience at the SPP.