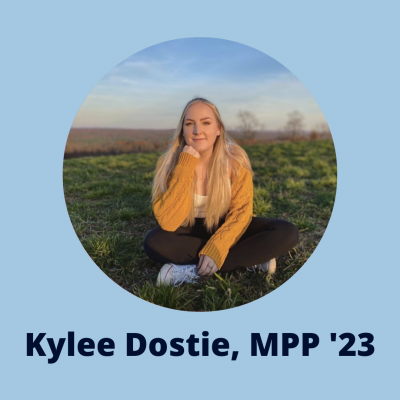 Kylee Dostie is a UConn School of Public Policy (SPP) Master of Public Policy (MPP) student who is currently pursuing a focus area in Social Policy concurrently with a Graduate Certificate in Human Rights. Last year she completed a Sponsored Internship (SI) with the Town of Scotland, Connecticut. In this capacity she ran data analysis, assisted in filling vacancies and supported town hall employees including the First Selectman.
This summer Kylee began as an intern with Larson For Congress. In her initial role she went to events with the Congressman and phone banked. After starting in May, she was offered a full-time role as Field Coordinator in August. In her new role, Kylee is tasked with outreach to local officials and Democratic Town Committees to stay connected with the district. She explains,
I am also in charge of our campaign interns, scheduling the Congressman for events, and writing memorandums for him to read over before any event he attends. My time in SPP has trained me on how to handle writing these memorandums as well as effective ways to reach audiences.
During the 2022-2023 academic year Kylee will be interning with the Town of Mansfield, Connecticut for her Internship and Professional Practice (IPP) placement. She will be assisting with the One School project, which will focus on the integration of three Mansfield elementary schools into a singular school. Kylee says, "I am hoping that some of the skills I have learned throughout my time at the SPP, such as policy analysis and research skills, will aide me in this journey."
After graduation she hopes to work in the human rights and research field. She explains,
Human rights affect our everyday lives in more ways than many realize, and I would love to be a part of making it a more prevalent area of our lives. Whether that be through creating social policies with them at the forefront, helping to make small town communities better places to live for their citizens, or working on human rights research and campaigns, I'm excited to see where my career brings me.