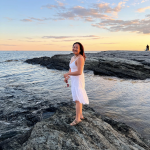 Recently we caught up with UConn School of Public Policy (SPP) alum Grace Brangwynne. Grace recently completed a Masters of Public Administration (MPA) with SPP this past May. Learn about Grace's life since graduation, in her own words, below!
---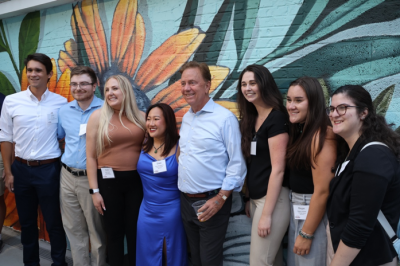 If you told after graduation that I would be working for Governor Ned Lamont's re-election campaign, I wouldn't have believed you. However, I am extremely grateful for the connections that brought me onto this team and the incredible networking opportunities that come with it.
As the Regional Project Coordinator at Ned for CT, I am responsible for planning, organizing, and executing two types of events for the Governor to attend around the state: meet & greets and roundtables. Meet & greets are relaxed, social occasions where Governor Lamont can familiarize himself with constituents in a casual setting. I'm especially proud of a recent meet & greet we held for Greater Hartford young professionals which was the largest campaign event to date.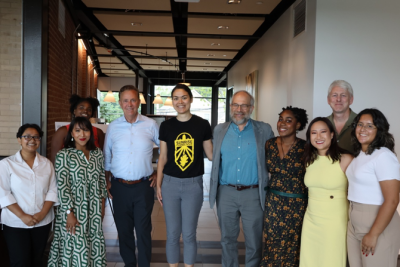 Roundtables are more intensive and revolve around a specific issue area. For instance, I organized the first Climate Change Roundtable between Governor Lamont and environmental activists from New Haven and the shoreline. The second roundtable I planned addressed gun violence prevention and included panelists from organizations like CT Against Gun Violence and Hartford Communities That Care. These kinds of event serve to amplify activist voices within the community and give them a direct opportunity to educate Governor Lamont on what initiatives have been pursued to address these issues and encourage everyone in the room to think "where can we go from here?".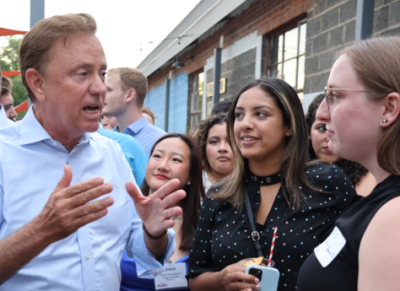 I would not be successful in this role without the project management skills I learned while earning my MPA. On my first day of work, I was given total creative agency over my position in regard to building events. I make work breakdown structures to create the scope and deliverables of the event, identify stakeholders, and delegate staff duties. My responsibilities also include writing memorandums about relevant policy accomplishments, providing regular status updates to my team, and sending project postmortems after the event. The work I do is extremely impactful and knowing invaluable project management techniques provides much-needed structure in an ever-changing political landscape.
My favorite part of my job is staffing the Governor at the events I plan. This means that I accompany him as he meets key stakeholders and brief him on event objectives and relevant policy. I always get a kick out of the Grateful Dead belt he wears at each outing!
No day on the campaign trail is the same. I'm deeply appreciative of the support my team has given me since day one and the relationships I've built with community leaders in my short time here. Working at Ned for CT feels surreal, but I love my job and how it challenges me to be an effective project coordinator, leader, and teammate. After all, as Taylor Swift once said "I wanna be defined by the things that I love, not the things I hate, not the things that I'm afraid of. Not the things that haunt me in the middle of the night. I just think that you are what you love".
A special thank you to Professor Deneen Hatmaker and Professor Michael Schrier for helping me develop the project management skills I use every day.