Recently we caught up with Master of Public Administration (MPA) student Madison Csejka. Madison currently serves as Press Secretary at the Connecticut Office of the State Comptroller. Learn more about Madison's commitment to public service and serving folks across Connecticut below!
---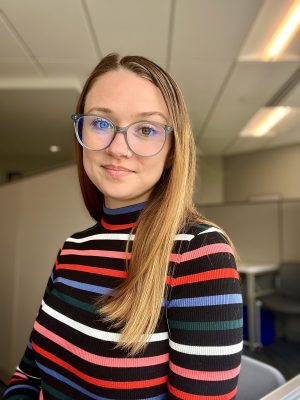 While studying at Southern Connecticut State University (SCSU), Madison spent summers working as a writing tutor for the Southern Educational Opportunity Program (SEOP) and strengthened her passion for public service. She explains,
Many of these students have faced life challenges that served as barriers to their academic success. Learning about these students' backgrounds, which were far different from my own, made me passionate about inequities in education and addressing them.
Concurrent factors outside of the classroom added to her path to a career in public service. During her commutes to SCSU she listened to Connecticut Public Radio (WNPR), the presidential election and Supreme Court appointments. She also studied education policy and shadowed at a school in Liverpool, England.
With a passion for education, Madison sought out a masters while serving as Executive Secretary at the Connecticut State Department of Education (CSDE). She says, "I was really impressed with the number of MPA graduates already in state service, which is one of the reasons why I chose this program." Location was also a factor, with the School of Public Policy (SPP) being located near a variety of Connecticut State Agencies.
While with CSDE, Madison assisted with scheduling and event building. After seeing an opportunity to work as a Scheduler for Governor Ned Lamont's re-election campaign, she saw a unique opportunity to work as a senior staff. Based on her background and knowledge as a Connecticut Native she saw a good fit. After applying, she met with the Campaign Manager and got the job! For Madison, the best part was learning more about Connecticut. She notes,
At one point, I could name all 169 towns! I spent lots of time strategically piecing together the puzzle that was the Governor's schedule and map for the day — and this meant learning about all of the different events, businesses, and recreational opportunities Connecticut has to offer. We had a really awesome team on the campaign — including some SPP graduates — and I was really grateful to be a part of the Governor's reelection efforts.
After the campaign, she intended to return to CSDE. During the campaign she was able to connect with Comptroller-elect Sean Scanlon about potentially joining his Communications staff. Though education is where her passion lies, Madison's communication experiences at CSDE helped her move towards a career in communications. In January she hit the ground running with excitement to join Comptroller Scanlon's dynamic team.
When asked about her favorite SPP memory, Madison recalls how she enjoyed the Spring of 2022 and being a part of Professor Mark Robbin's final class before retirement. She stated, "He was such an engaging and awesome professor, and I really enjoyed every class with him. We had a little party and group picture at the end, and it was so sweet!"
For prospective students working full-time she encourages asking for help. Madison adds, "It's not easy, but if you need help — ask! All of the faculty and staff at SPP have been so helpful and accommodating." We look forward to connecting more with Madison and the Class of 2024 in the months and years to come!