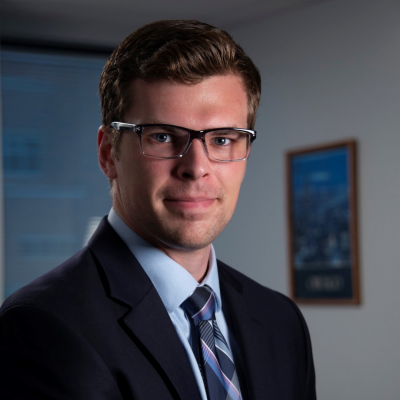 This past August, Department of Public Policy (DPP) alumnus Van Augur moved across the country to begin attending Stanford Law School. Van was part of the DPP's Fast-Track (FT) program and holds both a Master of Public Policy (MPP) and Graduate Certificate in Survey Research (SRC) from the Department.
Van notes that many of the skills he learned in his MPP courses have been directly transferable to law school. He shares:
I am grateful for the strong foundation in welfare economics that UConn's MPP program provided me. The 'law and economics' movement has really taken root at Stanford, so the same economic approaches Dr. Brunner and Dr. Simonsen used to frame policy issues are being used here at Stanford to frame fundamental doctrines in tort and contract law. I'm pleasantly surprised by how seamless the conceptual transition has been.
Even though Van is based in California, he continues to consult remotely for the Connecticut Sentencing Commission. The Commission consists of the key stakeholders in Connecticut's criminal justice system, and collaborates across agencies to develop nonpartisan, data-driven reforms for consideration by the legislature. He completed an Internship and Professional Practice (IPP) during the 2019-2020 academic year.
In his current involvement, Van volunteers the skills he developed through his MPP to perform policy research, analyze data, and write reports to inform the Commission's ongoing initiatives. In recent months, he has co-authored three reports for the Commission, including a memorandum on mental health needs in Connecticut's jails and prisons.
In the long term, Van hopes to return to the northeast after graduation. He says, "While I may be across the country for now, I'll always be a proud UConn Husky and DPP alum!"