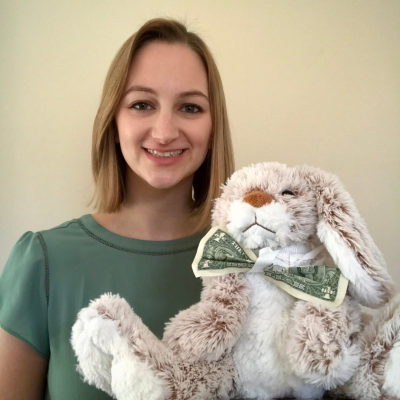 Each year, Professor Mark Robbins awards the highest performing investment portfolio the coveted "Money Bunny" award in his Public Investment Analysis class. The previous year's awardee attends the award ceremony and talk about how the money bunny changed their lives. 
This year's recipient is Master of Public Policy (MPP) 2021 and Public Financial Management (PFM) Certificate student Charlotte Moller.
After a few years of working as a legislative policy analyst, she decided to pursue a MPP in order to improve her quantitative analysis skills and financial literacy. Charlotte chose UConn's MPP program because of the focus on statistical and economic analysis as well as the opportunity to receive a PFM Certificate. She explains, "These academic opportunities as well as the practical applications offered through the IPP program and graduate assistantships (GA) made the decision to choose UConn easy." Charlotte completed a Graduate Assistantship last year as a Research Assistant for Professor Mohamad Alkadry.
For the 2020-2021 academic year Charlotte is completing an Internship and Professional Practice (IPP) with the Connecticut Division of Criminal Justice. She serves as a Data Analyst Intern, assisting in the collection and analysis of data generated by the Early Screening and Intervention Project (ESI). Prosecutors with the ESI Project screen low level cases to assess for underlying factors that could be addressed by a social worker in order to reduce future involvement with the criminal justice system. 
After graduation this spring, she hopes to work for state or local government conducting policy analysis and evaluation. Charlotte is interested in the policy areas of higher education, healthcare, and criminal justice.