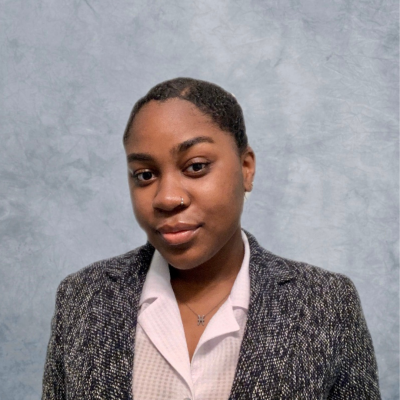 Katharine (Kat) Morris joined the Department of Public Policy's (DPP) Fast-Track (FT) program because she hates missing an opportunity and saw a way to get a head start on her future career. She says, "I immediately recognized this program as a career path in which I could use my academic background in an applied manner."
Kat chose to pursue public policy (MPP) because the MPP could provide her with the skills needed to use policy to address the incredible problems we face today. She explains, "Despite how little it's discussed, policy impacts people's daily lives and can set the course of generations. I want to do my part in shaping policy to affect our lives for the better."
She hopes to earn a PhD using cognitive science after completing her MPP in May. Kat hopes to utilize a PhD in order to "…strengthen social policy with an emphasis on intersectionality and policy development for environmental justice, health equity, and climate action." In the meantime, Kat plans to continue her engagement in local organizing and trying her best to make positive change however she can!
While attending UConn as an undergraduate, Kat earned a Bachelor of Arts in Cognitive Science and Anthropology. She became a Pack Leader for UConn's Bystander Intervention Program as a freshman. In her sophomore year she became a Resident Assistant with UConn ResLife, a research assistant for the Experimental Anthropology Lab (RA2), and administrative assistant for the Health Education Office. During her junior year she was selected as a BOLD Scholar for the BOLD Women's Leadership Network and became a more active member of the NAACP UConn Chapter and other organizations on campus.
As a BOLD Scholar Kat conducted independent research for her honors thesis and founded UConn Collaborative Organizing (UCCO) for social and environmental justice. During her senior year Kat led rallies and organized events as the UCCO President in collaboration with dozens of organizations. Most recently, she filmed a TEDxUConn talk on How To Collaborate for Environmental Justice.
Currently Kat is completing an Internship and Professional Practice (IPP) as a Policy Intern for Health Equity Solutions. She is helping municipalities across Connecticut declare racism as a public health crisis. This assistance entails sharing knowledge and resources, providing advocates and local leaders with ad hoc support, scheduling meetings and/or presentations to educate groups on racism as a public health crisis. She also had the opportunity to co-develop and present virtually in a video. 
More broadly, Kat supports work to prepare for legislative sessions and respond to arising issues during the session. This will likely include summarizing information for grassroots partners and legislators, social media planning and messaging, and helping to prepare communications for partners when actions are needed.