Welcome to the Department of Public Policy's (DPP) first edition of Teaching Tuesday! Throughout this semester we will be featuring faculty on Tuesdays and teaching you a bit about their lives outside of the classroom. Each faculty featured will be asked a few questions and we will post their responses without a filter. We look forward to sharing our faculty with you and hope you enjoy learning some fun facts that you may not have previously known. Our first feature is Professor Yusun Kim!
---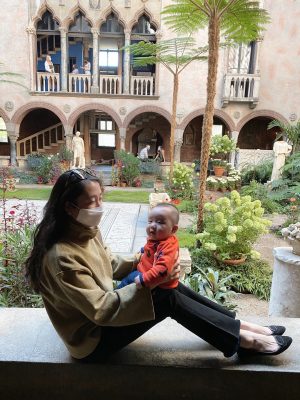 Question 1: Why did you become a professor?
When I was younger, I actually wanted to become a human rights lawyer. Then I went on a field trip to Cambodia during my final year of college and realized that public policies could affect the wellbeing of more people. So I went to a public administration school instead of law school. During graduate school, I gradually learned that I enjoyed teaching when I was working as a teaching assistant. I thought there could be no other job that could be as rewarding (to me) as this if I can teach and do research at the same time. It's funny how things can change. Growing up watching my father, who was a professor, spending most of his weekend on research, I thought I should never become one. Guess how I am spending my weekends now.
Question 2: What are your teaching interests?
I teach Economic Analysis for Public Policy and Management and Policy Analysis. I am also planning to teach an elective course on Health Policy.
Question 3: Why did you decide to come to UConn?
I instantly fell in love with the city of Hartford and DPP when I came for a campus visit. Plus, UConn made me an offer I could not refuse.
Question 4: If you weren't a professor, what would you be instead and why?
Had I not realized that I am terrible at fighting, I might have become a human rights lawyer, which was my childhood dream. I also once seriously thought about working for an NGO (non-governmental organization) that helps asylum seekers and refugees. However, if I still decided to pursue a doctoral degree, I may have become a researcher at a think-tank.
Question 5: What is your favorite thing about Hartford?
Hartford is a very family friendly place. There are so many amazing parks here!
Question 6: If you could travel to any location right now, where would you like to go and why?
Hawaii! My husband and I went on a honeymoon to Hawaii. I would love to take my son and show him the palm trees and sea turtles.