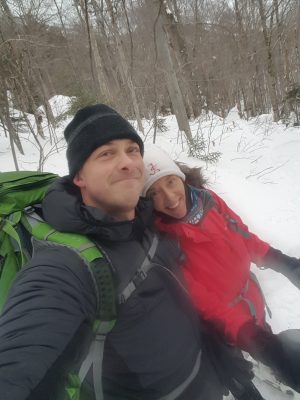 We recently caught up with Jason Hyland, a UConn police officer from 2000-2020, a 2020 graduate of the Department of Public Policy (DPP) Encore!Connecticut Program, and now the President and Executive Director of Project Imo, Inc.
Jason, what brought you to Encore!Connecticut and what was your favorite aspect of the program?
In 2019 I began thinking in earnest about transitioning from my law enforcement career into the nonprofit sector and potentially starting my own nonprofit organization in the long term. I conducted a rather exhaustive search of resources to improve my knowledge of nonprofit systems and apply my operational and managerial experience in the public sector into the nonprofit world. I found the Encore program at UConn and it seemed to be a perfectly natural fit. My existing community of UConn, the broader nonprofit community in the region, and a national model of success. Encore provided so many excellent avenues of interaction, even in the pandemic environment. I enjoyed the academic and professional development content of the program but the true strength of the program rests in the interpersonal connections. I found the connections with the program facilitators, guest lecturers, and fellow participants to be highly rewarding. It truly seemed like a community that wanted to help one another succeed.
How did you get involved in Project Imo, Inc.?
Project Imo, Inc., is a nonprofit experiential education company focusing on connecting youth and communities through programming in nature. The outdoor adventure education industry was my home many decades ago before I moved into policing. As I began to look to my retirement from policing, I knew I wanted to go back to that home. I began the rather nebulous thought journey of what this would look like and decided I wanted to create a nonprofit in that industry that has a solid framework of connecting disinvested and marginalized communities to broader resources and experiences in nature. After a solid process of creating stacks of notes, ideas, sketches, and conversations with some friends and colleagues, we decided to take the plunge in early 2020. I am currently the President and Executive Director.
Project Imo currently offers virtual teambuilding workshops but in the Spring, we are going to start offering in-person but physically distanced day programs such as hikes, teambuilding, and skills clinics like first aid, CPR, and wilderness first aid. We are also currently developing curriculum to help schoolteachers, homeschoolers, camps, and clubs bridge Next Generation Science Standards with nature learning and social emotional development. Currently we are working on middle childhood versions of our eko-STEAM curriculum with sights on early childhood and youth programs.
At this point, we at Project Imo are just getting our legs beneath us (not an easy task, especially in the pandemic environment) but we have a huge vision for growth. We are currently part time and wholly volunteer but we do want to transition into a full time, year-round experiential education organization with hopes to eventually establish a nature education and community peacebuilding center somewhere in eastern Connecticut. We have some pretty cool volunteer opportunities on VolunteerMatch and have already had a warm reception and are onboarding some new team members this month!
It is ambitious to be sure but… sometimes you just need to believe in something, take the leap, and roll up some sleeves for the hard work!