Welcome to the Department of Public Policy's (DPP) second edition of Teaching Tuesday! Throughout this semester we will be featuring faculty on Tuesdays and teaching you a bit about their lives outside of the classroom. Each faculty featured will be asked a few questions and we will post their responses without a filter. We look forward to sharing our faculty with you and hope you enjoy learning some fun facts that you may not have previously known. Our latest feature is Professor Thomas Craemer!
---
Question 1: Why did you decide to become a professor?
It was not so much a decision as an evolution. When I was young, I did not make plans for the future because at the time (in the 1980s) many of my friends passed away from AIDS and I had no reason to believe that I would survive them for long. Then I was torn between embarking on a career as a classical singer and getting a degree in political science. The latter opportunity opened up first when I was accepted into grad school in Stony Brook, New York. I was electrified to learn about how to use quantitative research methods in answering interesting political questions. One of the best ways to do that was to become a professor.
Question 2: What are your teaching interests? 
I teach in the Graduate Program in Survey Research (GPSR) based on my survey experience. During grad school I worked at the Stony Brook Survey Center. And I teach two classes in the MPA program that are close to my research interest in implicit and explicit racial attitudes and race-related political opinions. One course is Public Policy, Diversity and Inclusion, the other is Race and Public Policy.
Question 3: Why did you decide to come to UConn?  
After grad school I applied nationwide but hoped for something not too far from the city I had fallen in love with during the 9/11 crisis – New York! One of my favorite institutions was UConn, but early on in the application process, I learned that I was not selected. Later my adviser told me that another position at UConn had been advertised.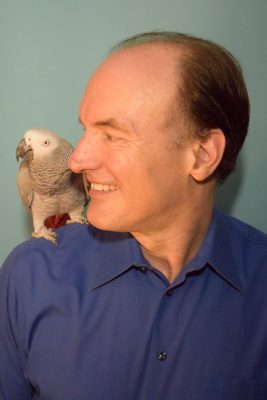 They made me an offer and I was delighted to accept!
Question 4: If you weren't a professor what would you be instead and why? 
First of all, I would have never predicted I could possibly become a professor because I was not very good in high school and I was terrible in math (now I love statistics)! In my youth, I was active in my native West Germany's peace movement and in the Central America solidarity movement. I went to harvest coffee in the middle of the civil war in Nicaragua when I was 20. At the time, 'revolutionary' would have been a cool profession. Later I was trained as a classical singer, so 'opera singer' moved to the top of the list (unfortunately, I recently lost my singing voice to a nasty cold). Today, 'zoo keeper' would appeal to me because I have an African Grey parrot named Alex and a charming little ball python named Madame Curie (see pictures) that amuse me to no end. However, professor is still my favorite profession.
Question 5: What is your favorite thing about Hartford? 
The UConn Hartford campus, of course!
Question 6: If you could travel to any location right now where would you like to go and why? 
I dream of leaving my apartment and walking the streets in front of my condo complex without a mask on. I know, crazy idea!