Department of Public Policy (DPP) alum Joshua Kelly '19 MPA officially starts as the Town Manager of Winchester, Connecticut tomorrow! Before he starts this new chapter we decided to catch up with Josh and ask him a few questions about public service and how his MPA helped him get to his newest role.
---
Where did your commitment to public service begin?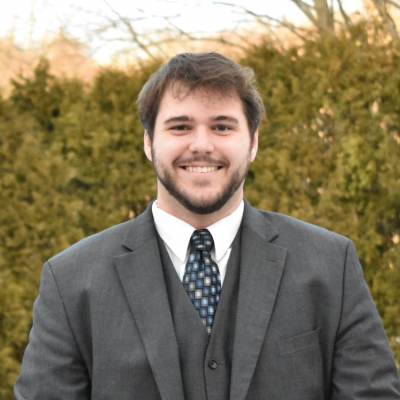 My first direct interaction with a public agency occurred when I was a freshman at Waterford High School, here in Connecticut. It was early 2010, and budgets were being cut across the state as havoc from the housing crisis continued to rock towns' expected income. The Waterford Board of Education came up with a target budget number that they needed to reach, and they identified two different programs that could be done away with to achieve their budget goals: high school freshman sports or elementary school foreign language classes. Having read reports that foreign languages were best learned at a young age and knowing that the other members of my class had plenty of opportunities to be involved with sports outside of the school's programs, I felt strongly enough that the foreign language programs should be protected that I decided to go speak at the next Board of Education meeting during public comment. I was one of only about 3-4 people who spoke in favor of keeping the foreign language programs, with at least one of those speakers being foreign language teachers themselves, and at least two dozen others spoke in favor of keeping freshman sports. Needless to say, the elementary foreign language program was cut starting in FY 2011, and I was so disheartened to see public opinion win out over logic, reason, and academics. This instance really sparked my desire to become involved in public processes, to help steer towns in a more logical and fact-driven direction, and it ultimately led me to run for office and seek my MPA.
How did your experiences lead you to a MPA?
My journey to an MPA was a rather unexpected one – I started my college education at Ithaca College studying opera, and it was only after my freshman year that I realized that my career pursuit and extracurricular interests were backwards. I realized that, as much as I love to sing, I could help more people and make more of an impact on the lives of others through a career in government and policy, and I quickly changed majors.
Through high school and college, my interest in politics and government grew with each passing discussion and argument that I had, and class I attended. My first instinct in getting involved in government was to run for office – I did so in 2015, while attending Wheaton College, MA, and I won a seat as an alternate on the Waterford Zoning Board of Appeals. At first I imagined that local office was simply the first step one took before becoming involved in state and federal government, but I learned very quickly that local governments do far more than any class or any mentor at that point in my life had given them credit. I became fascinated by how multifaceted local governments are, and I decided to run for a seat on the Representative Town Meeting (RTM) in Waterford in 2017. I won with the highest vote count for that seat in the town's history at that time, and I was elected minority leader on the RTM soon after. This role provided me with crucial experiences, including the critical analysis of the town's annual budget and being tasked with rewriting the body's rules of order. Rather than continue to be the one to criticize, critique, and amend a proposed budget, however, I quickly wanted to be the one to build and present a better budget from the get-go. In order to do that, however, I knew I needed more sharply developed skills and wisdom, and thus I went off to get my MPA and Graduate Certificate in Public Financial Management with UConn's Department of Public Policy (DPP).
Why did you decide to apply to the DPP?
To me, applying to UConn's DPP was a no-brainer – as someone very devoted to seeing Connecticut's continued success, as someone who knew he wanted to obtain his MPA, and as someone who wanted to go to a top-ranked school as a way to open future doors in my career, the DPP was the perfect choice for me as I pursued my Masters degree. I took courses that helped me become a versatile young professional, I made connections that have helped me further improve my skills after graduation and opened doors, and I was able to accomplish it all while being paid to do it. Being a graduate of the DPP is a great point of pride for me, and it has given me the opportunity to help so many in such a short time – for that, I'm extremely grateful.
Why did you decided to pursue a graduate certificate in public financial management?
During my time on Waterford's RTM, I realized very quickly that it was not only a background in public administration or management that was going to put me in the best possible position to be a top-notch Town Manager or Administration, but it was rather a background in finance that was going to put me heads above the rest. The DPP's ability to offer a graduate certificate in this area with classes that would also help to satisfy elective requirements for the MPA was the perfect combination that helped me gain knowledge and credentials without breaking the bank or overwhelming my schedule. It is this certificate that has truly helped me to become one of the youngest appointed municipal CEOs in Connecticut's history.
What did you do for your IPP and how did it impact you post-grad?
For my IPP, I worked alongside Town Manager Peter Souza in the Town of Windsor, just north of Hartford. The projects I worked on included developing town labor comparison information prior to union negotiations, developing portions of the town's annual budget, working with the Economic Development Director to create a plan for the reuse of an old school building, and research on the installation of electric vehicle charging stations in various locations around town. The hands-on experience I gained in Windsor has been a cornerstone of my development in municipal government administration, and that experience coupled with my education helped springboard me into a Town Administrator role in Bolton, Connecticut, very soon after my graduation from the DPP.
What are you looking forward to most in your upcoming role as Town Manager?
In April, I will leave my role as Town Administrator in Bolton and I will begin working as the Town Manager of Winchester, Connecticut. The thing that most captivates me about Winchester as a community is its nearly dual personality: within its borders lies the City of Winsted, an area that is colored by its history as the site of several major mills and its vibrant, walkable downtown commercial area. Winsted may best be characterized as having a more urban feel, a stark contrast to the remaining 28 square miles of Winchester that are sparsely populated. Trying to ensure that all parts of town are given the assistance and resources that they need to not just survive, but thrive, will be my top goal, and I'm excited to have an opportunity to put my skills to use in a community on the rise.
---
Read more: Winchester Town Manager Is UConn MPA Graduate With Youthful Perspective via UConn Today