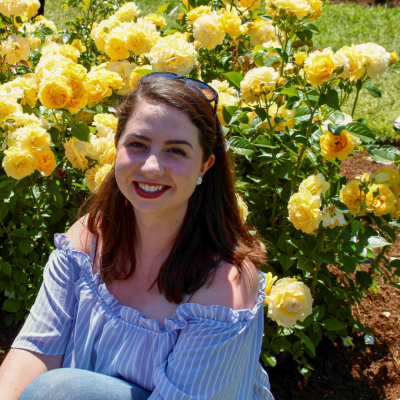 Prior to enrolling as a Master of Public Administration (MPA) student, Ciara Hanlon took two courses with the Department of Public Policy (DPP) as a non-degree student. She explains, "I really liked the close-knit community of students and faculty who are focused on learning and expanding their knowledge. The alumni network and mentoring program also were two things that stood out to me which I felt many other programs did not offer."
After working in the private sector, Ciara found herself drawn to public service. She says, "The MPA program really focuses on how the work we are doing/plan to do fits into public interest and needs. Every decision made in public administration is slightly more nuanced, because it needs to balance the public interests, which means critical thinking and coming up with new solutions is required." 
Currently Ciara works at UConn full-time for the Department of Molecular and Cellular Biology. She pursued the MPA part-time and will be completing her degree this May. Due to the DPP's evening schedule for coursework (4:00-6:30pm or 6:30-9:00pm once a week in Hartford), Ciara was able to avoid creating a heavy time burden on her schedule. Through the combination of working and classwork, she found opportunities for real world application in the areas of labor-management, human resources and project management. 
Her favorite course was PP 5340: Introduction to Public Policy with Professor Doug Spencer. She notes that Professor Spencer made the course interesting and pushed students to do their best work and share their ideas. It was also where she met three of her best friends (Rebecca Ouellette, Adam Murphy and Will Butler).
During her time with the DPP her favorite memory was the 2019 Friendsgiving held by GAPPS-ICMA. She notes, "Events like these provided opportunities to meet people as a part-time student who was not regularly in the Grad Computer Lab."
After graduation Ciara hopes to continue working in higher education administration. She shared that her budgeting coursework with Professors Eric Brunner and Bill Simonsen, and local government course with West Hartford Town Manager Matthew Hart, made her realize she could work in fiscal management at the state or local level.