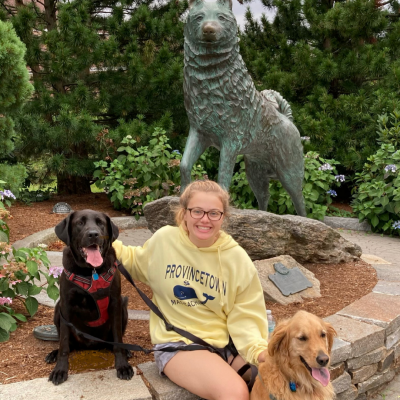 Emma Stierle is a rising junior from Newtown, Connecticut who is currently a Master of Public Administration (MPA) Fast-Track student with the Department of Public Policy (DPP). She is a Women's Gender and Sexuality Studies major who is currently serving the UConn community as an Orientation Leader on the Storrs campus this summer. During the spring semester Emma prepared for this role through a class that taught her a fellow O-Leaders the ins and outs of UConn and the orientation program. Prior to meeting the newest Storrs Huskies, she also completed a two week training with various university departments in order to become an expert in all things UConn.
Since the beginning of June, Emma has been meeting with groups of students virtually, discussing a different topic each week, attending staff meetings and helping students have a smooth transition into UConn. She says, "I cannot talk about my experience as a leader without giving credit to the amazing staff and students that run orientation. The orientation team puts their all into creating the best experience for students, especially Maria A. Sedotti program coordinator, Le'Asia Gaskin parent staff coordinator, Tim Tamallanca new student staff coordinator, as well as the entire team!"
Emma also emphasized how this experience ties in with her DPP skills! She explains:
As orientation leaders we need to help hundreds of students feel comfortable and ready to attend our university in the fall. More importantly, we are getting these students ready to be a part of the UConn community. The DPP has taught me the importance of community and how to most effectively cultivate and serve them. I think orientation does a great job of implementing this through the weekly Zoom meetings, office hours, and game nights that we hold for students throughout the summer.
This summer she is applying leadership skills that she learned in her human resource coursework including leading engaging meetings, creating presentations that include important information,  facilitating conversations and being a constant resource for students. As a team member, Emma has had the opportunity to collaborate with fellow staff thanks to coordinator support. Another HR lesson Emma has seen firsthand is the importance of recognizing each others' contributions and showing gratitude. She ended our discussion by saying, "Overall, I am so grateful and honored to work alongside such hard-working people who really care about UConn and our incoming students, and this experience ties in so well with my DPP career because it's all about public service!"