This summer the Department of Public Policy (DPP) explored food stops near our UConn Hartford home. Interested in exploring the city on the weekends? Parking is free in Hartford on Saturday and Sunday! Have a favorite food location? Let us know at dpp@uconn.edu.
---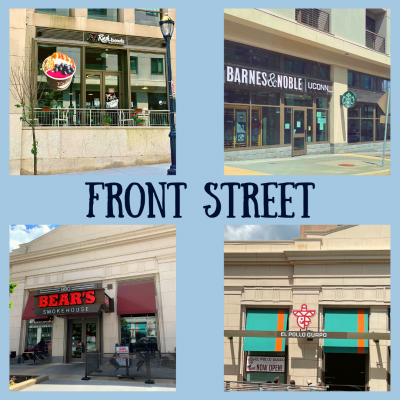 Front Street
Rush Bowls serves fruit and all-natural food bowls at 15 Front Street. Have dietary restrictions? Rush Bowls do not have artificial sweeteners, artificial additives, artificial preservatives or MSG. They also provide options for people with the following dietary restrictions: vegetarian, vegan, wheat-free, nut-free, soy-free, diary-free and non-GMO options. Their menu includes options named for destinations, fuel meant for endurance, eats intended for wellness and even and option for pups! Local faves include their Oasis Bowl and Choco Strawberry Bowl.
Starbucks is inside B&N College UConn Hartford Store at 20 Front Street. This location is open 9am-3pm Monday through Friday. They are closed on Saturdays and Sundays.
Bear's Smokehouse BBQ provides authentic Kansas City-style wood-smoked BBQ at 25 Front Street. The menu offers ten different meat choices including burnt ends, pulled pork or chicken and Impossible Meatloaf. They offer a variety of salads, sandwiches and entrees.  Some of our favorites include the Super Spud and Mac Attack. Their dessert menu also includes UConn Dairy Bar Ice Cream, which is made in Storrs, Connecticut!
El Pollo Guapo is located at 26 Front Street. This fast casual rotisserie restaurant cooks up roasted chickens, fresh sides, tacos and salads. Their menu features rotisserie meals, greens bowls, rice bowls, munchies, tacos, sweets and a variety of side chicks.
---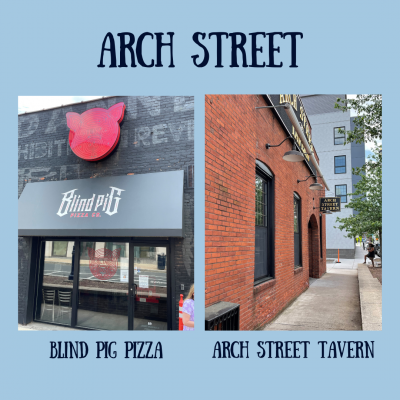 Arch Street
Blind Pig Pizza is located at 89 Arch Street. Their Chicken Bacon Ranch pizza is a DPP staple. The menu includes classic pizzas like Cheese, White, Marg and Smoked Marinara. Their Specialty Red pizzas include Smoked Wing, Sausage, Ranch-A-Roni, Deep Dive and Vegan Pie. They also serve Specialty White pizzas that include Green Machine, Shroom, Blind Cuban, Chicken Bacon Ranch, Bittersweet and Four Cheese. The pizzeria was opened by Bear's Smokehouse BBQ owner Jamie McDonald, and the menu even features specialty Bear's BBQ Pies (BBQ Meat Lovers, Texas, Rodeo Hog, Burnt End Philly, White Moink).
Arch Street Tavern provides pub food, drinks and live entertainment at 85 Arch Street. Their menu includes small plates, salads and handhelds that are served with tavern chips. Members of the DPP community enjoy their Cajun Fried Pickles, and their Thursday Trivia Nights are popular after class. Did you know Arch Street is one of the earliest streets in Hartford? The Father of Connecticut, Reverend Thomas Hooker, resided on Arch Street.
---
Main Street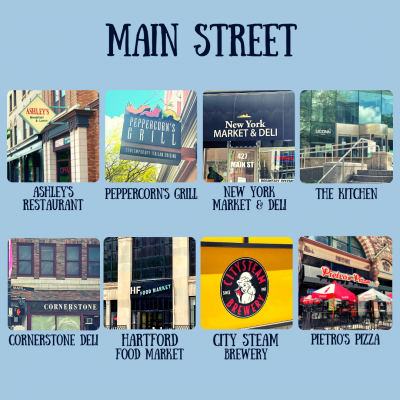 Ashley's Restaurant is a diner located at 221 Main Street. They serve both breakfast and lunch menu items. Their Big Breakfast is a popular item that includes two pancakes or French toast with two eggs, two bacon, two sausage, homefries and coffee.
Peppercorn's Grill offers housemade Italian Cuisine at 357 Main Street. Their menu features signature dishes that include Orange Ravioli, In Season Farm to Chef Zucchini Blossoms, Osso Bucco, Veal Chop and Crab Crusted Grouper. 
New York Market & Deli is a neighborhood market located at 427 Main Street. Their menu is split into sections including beverages, breakfast, soups, salads, specials, sandwiches and Boar's Head. Breakfast options range from omelets to egg and cheese, bagels, pancakes and French toast.  The specials menu includes gyros, quesadillas, buffalo chicken, chicken teriyaki and fish fillet, just to new a few!
The Kitchen is temporarily closed at 500 Main Street with the 559 Broad Street location open for takeout. When you eat food from The Kitchen you are supporting Forge City Works on-the-job culinary training and food access programs. Their menu traditionally includes breakfast and lunch options, and they offer pastries that are baked fresh daily. The Kitchen Curry Chicken Salad is a DPP favorite and we love trying out the specials menu.
Cornerstone Deli consistently has a long line at 592 Main Street, but the line moves really quickly! Cornerstone serves breakfast, soups and salads, entrees and both grinder and roll options. Two of our favorite menu items include the eggplant and chicken parmigiana options.
Hartford Food Market is located at 750 Main Street and serves slices of New York pizza in addition to being a fully functional market. Their menu also includes prepared foods, smoothies and sandwiches.
City Steam Brewery and Café and has been "Building Beautiful Beers since 1997" at 942 Main Street. Their Brew HaHa Comedy Club features live comedy, and was originally home to Connecticut's first major comedy venue. The Last Laugh Comedy Club was located in Brown Thomson and Co. in 1987, and a decade later the original owners renovated and expanded to the City Steam Brewery Café we know today. 
Pietro's Pizza is also located at 942 Main Street. This Italian pizzeria has an expansive menu of specialty red and white pizzas with a variety of toppings for medium, large and party servings. They also offer calzones, quesadillas, Italian dinners, salads, burgers, chicken, wraps and grinders. Pietro's Pizza also offers appetizers, fried dough and desserts.
---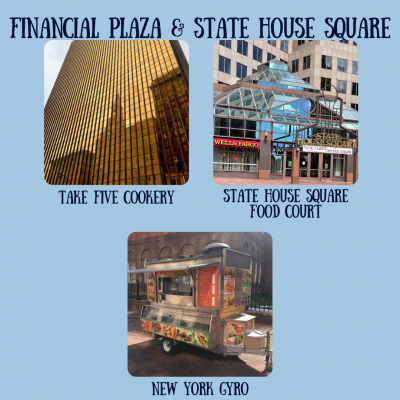 Financial Plaza & State House Square
Take Five Cookery opened in 2002 at 1 Financial Plaza, Hartford in the Gold Building, and is a restaurant known for its classically produced gourmet cuisine. Each menu, from the eclectic daily selections, panini sandwiches, soups and freshly tossed salads to the variety of foods on the self-serve salad bar, is formed from scratch in Take Five's own kitchen. Customer favorites include the fresh daily specials, both hot and cold, as well as homemade soups such as Roasted Red Pepper, Italian Wedding and Maryland Crab.
State House Square Food Court is home to a variety of eateries! Due to the pandemic many of the locations have temporarily closed, but we look forward to re-exploring again soon!
New York Gyro is a halal food truck that can be found at Statehouse Square. The post updated hours on their Facebook page. They serve chicken and lamb gyros, salads and platters at reasonable prices and their reviews rate them as "exceptionally good."
---
Pratt Street
El Poeta De Los Sandwiches is located at 22 Pratt Street. In addition to sandwiches they are known for their frappes. Sandwiches include the Cinco Estrellas, El Poeta Special, Pernil Pork, Ham and Cheese, Reforzado, Turkey Ham, Tuna, Mortadella, Salami, Bocadillo, Tostadas and Pastrami. Frappes include Guanabana, Guayaba, Kinder Bueno, Tronky, cameo, Sara Lee, Reese's, Twix, Strawberry, Papaya, Bana, Mango, Pineapple, Oreo, Ferrero, Nutella, Fruits, Parcha, Coconut and Snickers. They also serve orange juice, apple juice, fruit punch and iced tea lemonade.
Sunberry Café, at 65 Pratt Street is a family run restaurant specializing in Korean BBQ since 2012.
Vaughn's Public House at 59 Pratt Street promises true Irish warmth and hospitality all day, every day. Wander in sometime for lunch, dinner, after-dinner drinks, pre-show pints or just because. Sit. Stay. Stay some more. You may not ever want to leave. And we really don't want you to. At Vaughan's today can wait till tomorrow… and tomorrow can wait till some time next week.
---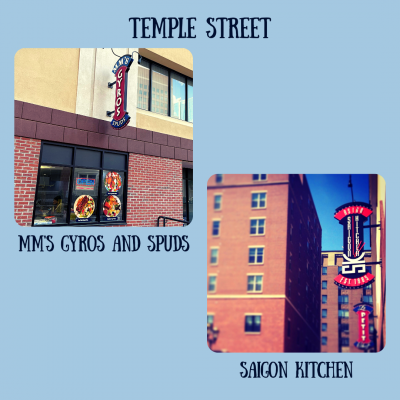 Temple Street
Saigon Kitchen is a popular casual dining Asian restaurant located in the heart of Downtown Hartford at 40 Temple Street.  Open since the summer of 1985 in the historic Cheney Building, Saigon Kitchen specializes in creating traditional Chinese-American favorites to fresh new tasting creations that infuse the flavors of pan-Asian cuisine.  Saigon Kitchen's quick, dependable service is another reason why it is frequented by numerous professionals and students on a regular basis who work, live, and study in the Hartford district. Their menu includes starters, on the sides, fried rice, lo mein, vegetarian options, lunch and dinner favorites and small orders. They also offer box-lunch catering. Our favorite house specials include Hot 'n Spicy Beef or Shrimp and Curry Shrimp.
MMs Gyros and Spuds has been serving Hartford since 2009. They specialize in authentic "Turkish Style Gyro" and are located at 24 Temple Street. Their menu includes platters, salads, and wraps of a wide variety of gyros and kebabs. MMs offers take-out & dine-in as well as catering.
---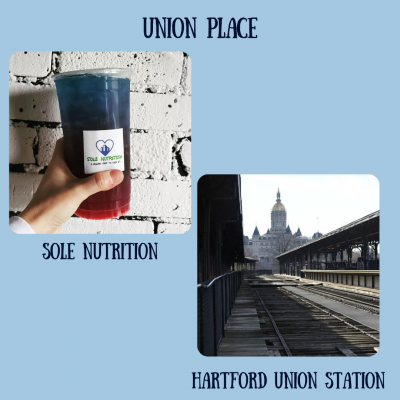 Union Place
Sole Nutrition, at 76 Union Place is a healthy spot to kick it while enjoying a supreme smoothie or energizing tea. Open for breakfast, brunch and fast food, a reasonably priced menu offers energizing teas, shakes, and coffees.
Sole Nutrition is located near the Hartford Union Station which is on the New-Haven Springfield Line. This station also serves as a terminus for the CTfastrak that travels between Downtown New Britain and Central Connecticut. It also provides local and express bus services, as well as intercity bus services with Greyhound and Peter Pan.
---
Asylum Street
Black Eyed Sally's Southern Kitchen & Bar is a local favorite housed in a 100-year-old building at 350 Asylum Street. Their guests find themselves surrounded by pressed tin walls, time-worn wood floors, Southern folk art, and blues memorabilia. They have built a reputation for national and local live blues, jazz, rock & soul music as well as award-winning Bar-B-Que and Southern cooking. 
Juiced Up Juice Bar at 231 Asylum Street offers fresh smoothies and freshly squeezed juices as well as coffee and pastries. They also include food on their menu with salads, stir fries and the popular chicken wrap.  Many reviews comment on their polite and fast service.
OC 2 Go at 221 Asylum Street in the Goodwin Hotel offers takeout convenience, with a "Truly Italian" home-made taste on their menu. Come by for a quick lunch, or anytime! Don't forget to pick up your fresh home-made Italian meals ready for you to take on the go to share with friends and family.  See their menu for soups, salads appetizers and authentic Italian standards like risotto, lasagna and, of course, pasta. They also offer house made focaccia breads.
Spice Venue at 81 Asylum Street serves a variety of Indian food including Samosa Chat, Medhu Vada, Lamb Vindaloo, and more! They are located near Capital Community College and Hartford Public Library. See their menu for Indian Street Food, South Indian food, and their variety of entrees. Order online for carryout or delivery!
Dhaba Wala Indian Kitchen at 49 Asylum Street is a self-proclaimed "hole in the wall" which is what Dhaba means. They are serving up "break-your-heart-delicious, scratch-made, traditional Indian foods without a setting or a price that are one bit fancier than they need to be." Their offerings include Tandoori Chicken, Kebabs, and various India street foods. They also offer many vegetarian options.
Local Creamery Deli at 21 Asylum Street offers freshly made grinders, wraps, salads and sandwiches as well as ice cream!  It has been described as "a hidden gem" and the reviews rave about the food, the prices and the hospitality. They are available for takeout and delivery (by Grubhub).