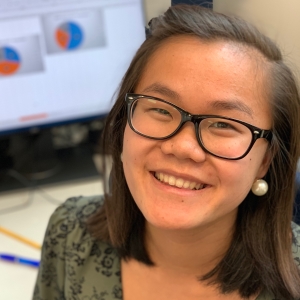 On Friday, August 6, the Department of Public Policy (DPP) bids farewell to Lian Kish as she moves on to a new role at the University of Maryland in College Park as their Assistant Director of Full-Time MBA and Business Master's Program.  In her new position, Lian will be responsible for assisting in the recruitment and yield efforts for Maryland Smith's nine master's programs and their Plus 1 Program.
My new position would not have been possible without the DPP. Through the Fast-Track program I was able to explore my interests and define my own version of public service through a career in higher education. While completing my MPA I worked in the office and helped with admissions and events, which strengthened my desire to make a career out of empowering students. After graduation I was extremely thankful for the opportunity to stay on in the Outreach field. Over the years my job has evolved and allowed me to grow in ways I could have never imagined. I know not everyone gets to continue their career with the DPP in this unique way, but every DPP alum knows that our network is always there to provide support and to cheer us on!
Lian earned her Bachelor of Arts in History and Political Science from UConn in 2017. She joined the DPP Fast-Track in the Fall of 2015 and graduated in 2018 with a Master of Public Administration (MPA) degree and a Nonprofit Management Certificate. She has also taken several Survey Research classes along the way. She completed an Internship and Professional Practice at Ädelbrook as a compliance intern creating an assessment tool for accreditation.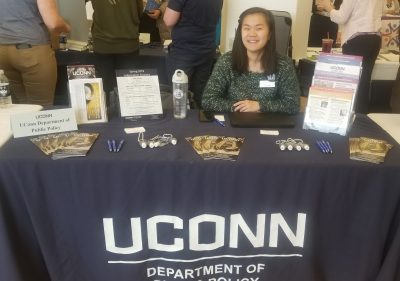 Lian started her career at the DPP in 2017 as an Administrative Assistant and was then hired as Outreach Specialist after graduating in 2018. She was promoted to Outreach Coordinator the next year. She served as the first point of contact for inquiries and applications, doubling the department's enrollment since her tenure. Her job also included overseeing the DPP Newsletter and social media, where we averaged over 250,000 social media impressions a month. Lian also served as the advisor to GAPPS-ICMA and was recognized by the Center for Career Development as a valued member of both their Career Champion program as well as a member of their Career Champion Advisory Board. When asked what her favorite memory at the DPP is, she replied:
I can't pinpoint a favorite memory, but I can sum up a feeling. Being a part of the DPP is knowing that I can face any challenge and utilize my resources to find solutions and continually adapt to improve the situation. It's knowing that not every problem can be perfectly solved, and that some days can be harder than others, but with the right team and the right mindset you can make an impact on someone's life for the better. Folks often joke with me about whether higher education admissions is a dream job for me, and it is. Every day I get to tell stories about amazing people who are making our world better, and in turn help others find their own way to do the same. I can't wait to tell new stories in Maryland, but I'll always be sure to share my stories of the DPP!
Mohamad Alkadry, Head of the Department of Public Policy, adds:
Lian is excellent and innovative in her work, but what we will miss the most is her passion and drive to accomplish our public service mission. Lian believed and was an amazing ambassador for helping undergraduates find a future career path where they can make a good living while making a big difference. I am certain that Lian will always be part of our community – once a Husky will forever be a Husky. We wish her the best in this wonderful opportunity, and we look forward to hearing even more amazing news from Lian.
Lian has been a tremendous asset to the DPP over the past four years and her enthusiasm, skill and friendly personality will be hard to match.  While we are going to miss her stories, her passion for the Washington Capitals, and her never-ending supply of snacks, we wish her well in her new endeavor!