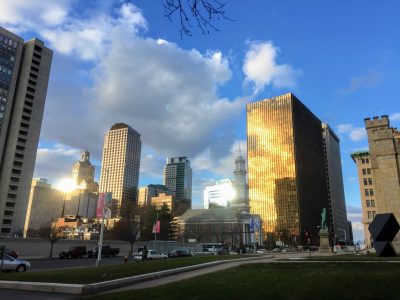 The Department of Public Policy's (DPP) Internship and Professional Practice (IPP) program offers second year Master of Public Policy (MPP) and Master of Public Administration (MPA) students the opportunity to acquire work experience in a nonprofit organization, local town government, or a Connecticut state agency for the academic school year. First year and undergraduate DPP Fast-Track students are also eligible for internships.
The 2021-2022 internship season resulted in the largest group ever matched in DPP's 13-year history of providing internships. 74 DPP students were matched with 60 public service organizations: 11 municipalities,  32 nonprofits, and 18 state agencies. The students will work an average of 15 hours per week for 39 weeks from late August of this year to the end of May, 2022.
The process began in January when students expressed their intent on joining the internship program and attended resume writing and interview workshops. In early March, the internship candidates participated in a Mock Interview Night where they went through the process of interviewing for a job with DPP alumni volunteering as their interviewers. This was quite a process which involved 70 candidates and 27 seasoned interviewers. The process was made even more challenging this year with all the interviews being online due to the COVID pandemic.
By mid-March, the students were ready to review the 80 available internship opportunities and submit their applications to those organizations in which they were interested. In April, they were interviewed by internship employers and the matching began.
Their time in the field provides each intern with meaningful managerial and/or analytic experiences in a state agency, municipality, or nonprofit organization. The students utilize their skills to analyze and assist in the implementation of cutting-edge public service concepts and programs. They research current operations or procedures and make recommendations to improve services and create efficiencies. They work independently on projects as well as alongside skilled staff to prepare for a career in public service. Not only does the internship provide crucial career skills to the intern, but it also offers the organization a fresh perspective from trained Public Policy graduate students.
If you would like to learn more information about the DPP Internship Program, please contact David Garvey at david.garvey@uconn.edu.