Welcome to the Department of Public Policy's (DPP) first Teaching Tuesday of the Fall semester! Through our Teaching Tuesday series our faculty will answer a set of questions to provide insight into who they are. Our first feature of the semester will be Professor and Department Head Mohamad Alkadry. We hope these features will enlighten and delight you!
---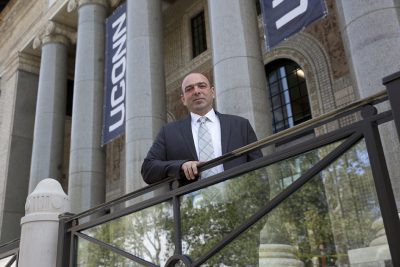 Question 1: Why did you decide to become a professor?
As a young adult I experimented with different careers. I worked in human services as a counselor working with people with disabilities. I loved that job, but it was a very stressful job with an unreasonable work schedule. After I finished by master's degree, I worked as a value-for-money auditor with the Office of the Auditor General of Canada. I also loved that job, but decided I would rather have a career where my success is not so closely tied to discovering other people's failures. Then, I decided to pursue my Ph.D. and I started teaching as early as my second semester in that program. I truly enjoy teaching, advising and most importantly introducing undergraduate students to public service careers via the MPA or MPP.
Question 2: What are your teaching interests?
I enjoy doing administrative work as Department Head and my biggest regret is not being able to dedicate more time to teaching subjects that I enjoy teaching. I love teaching public administration and public policy theory courses. That is why my introduction section tends to have more theory than usual. I think theory helps conceptualize the practice of public administration and helps practitioners make better sense of the world around them. I enjoy teaching and would like to be able to teach more.
Question 3: Why did you decide to come to UConn? 
UConn Public Policy faculty members have always enjoyed an amazing national reputation as excellent scholars and teachers. When the opportunity came up to come to UConn it was an easy decision. The hardest part of that decision is the decision to move from sunny Miami to New England. Four later, this is a decision that I do not regret. My faculty and staff colleagues are hands down the best team I have ever worked with. They are dedicated to their students and to continual improvement of our graduate degrees. UConn is an excellent institution, and UConn DPP lives up to its hype.
Question 4: If you weren't a professor what would you be instead and why?
I would work in construction. In my personal life, I built one house and renovated or added to every house I lived in. Although I lack the skills to work in construction, I love the idea of building or enhancing what is already built.
Question 5: What is your favorite thing about Hartford?
I love the diversity of Hartford and our campus in Hartford. Walking into our campus on a Monday morning and seeing a campus bustling with students from different communities is a true joy. Proximity to State, Local and nonprofit leaders is another thing I really like about Hartford. Hartford drivers are very courteous – by comparison to drivers in Miami and Beirut.
Question 6: If you could travel to any location right now where would you like to go and why?
I enjoy traveling to new places, learning about different communities and eating foods from around the world. There are places that I feel nostalgic about and have an emotional connection to. I love Beirut because that is where I grew up. I feel nostalgic about the noise of Beirut streets, the people's drive to help others and the sense of community. Miami is another city that I love – warm weather, but warm people too. The warmer the people, the more I want to be in a place!