Welcome to the Department of Public Policy's (DPP) seventh edition of Teaching Tuesday! Through our Teaching Tuesday series our faculty will answer a set of questions to provide insight into who they are. This week we are featuring Professor Bob Wilson, Distinguished Visiting Professor and Interim Director of Sustainable Global Cities Initiative. We hope these features will enlighten and delight you!
---
Question 1: Why did you decide to become a professor? 
I came late to a decision on pursuing an academic career. As I finished a dual Masters Degree program, several professors encouraged me to stay on for another year to finish the PhD course requirements and qualifying exams, without committing to a dissertation. I took this advice and as an ABD, I took a one year visiting position at Brazilian university but stayed four years, and wrote a dissertation and discovered that I very much enjoyed research and teaching. At that point I decided to look for a university position when I returned to the US.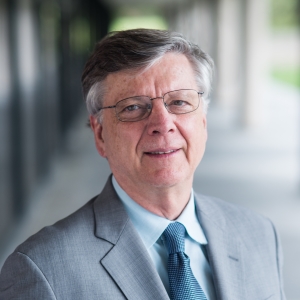 Question 2: What are your teaching interests?
My primary teaching interests have been in urban development and policy and quantitative methods. I have frequently taught applied policy classes involving public sector clients.
Question 3: Why did you decide to come to UConn? 
There is a bit of serendipity in my joining UConn. When I retired, my wife and I decided to relocate from Texas to Connecticut. When we first started exploring West Hartford, I made a "cold call" on Prof. Mark Robbins, then the chair of the DPP, to talk about Connecticut and once I was living in West Hartford on a trial basis, I discovered Prof. Mohamad Alkadry was my neighbor. The DPP invited me to serve as a Distinguished Visiting Professor to teach part-time. I am starting my fourth year.
Question 4: If you weren't a professor what would you be instead and why?
If I wasn't a visiting professor, I suppose I would be fully retired.
Question 5: What is your favorite thing about Hartford?
I have become very intrigued by the history of Hartford. Before moving here, I was not aware that the city was one of the country's first industrial innovation centers. The economy was highly diversified (spawning the insurance industry, among other sectors) and generated significant cultural activities and institutions. I enjoy the diverse and multicultural population of the city today, but recognize the considerable challenges the city faces. I am very interested in the wide range of efforts to rejuvenate Hartford, especially as its 400th anniversary approaches next decade.
Question 6: If you could travel to any location right now where would you like to go and why?
Having engaged in much career related international and national travel, I look forward to spending coming years exploring New England and developing my understanding of its history and geography.