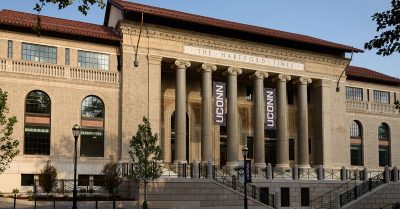 The University of Connecticut (UConn) Department of Public Policy (DPP) is looking for applicants for the position of Director of Engagement (Educational Program Administrator). The Director of Engagement will be charged with implementing the outreach, fieldwork, and lifelong learning missions of the Department of Public Policy and the College of Liberal Arts and Sciences. The tasks include managing the robust fieldwork program within the Department, managing a professional development program and career program within the Department, managing the Department's robust alumni-student network, and managing lifelong program activities targeted toward alumni, current students, and public and nonprofit professionals in Connecticut, and managing the Department's outreach activities and community partnerships and collaborations with other University programs.
DUTIES AND RESPONSIBILITIES
Primary duties of this position center on overseeing all aspects of the experiential and internship program inclusive of MPA, MPP, and MASR programs, as well as the field education needs of any future program in the Department.

Responsible for managing administrative and curricular responsibilities of the internship and professional practice program in the Department including managing staff attached to that function, dealing with a growing budget of that program, and managing relations with faculty and field advisors in the IPP program.
Training and managing faculty participation in the process as advisors of interning students.
Provide strategic educational and administrative leadership.
Review all agency, supervisor, and student evaluation data, making changes to policies and practices as needed.
Responsible for the operation of the IPP program through supervision of professional and support staff, including identification of appropriate professional development needs and opportunities.
Oversee and maintain relevant department data systems and ensure coordination with the Department's and UConn's larger information systems.

The Director of Engagement is expected to be visible in the community for the purpose of developing relationships with agencies and organizations as well as developing IPP and post-graduation placement sites and creating nontraditional sites. Ensure standards of quality are maintained for evaluation of internship sites, field supervisors, graduate program directors, and faculty advisors.
Ensure the implementation of the DPP graduate programs' experiential curriculum requirements in accordance with the requirements of the Network of Schools of Public Policy, Affairs and Administration's accreditation requirements for experiential learning programs, UConn, and UConn DPP policies.

Review and propose changes to UConn DPP faculty educational policies and practices. Work collaboratively with program directors, curriculum units, and faculty committees.
Provide leadership in developing new experiential educational resources, including online resources for students, supervisors, and faculty advisors.
Support the richness of diversity and employ pedagogical techniques to meet the needs of diverse learning styles and intellectual interests related to internship and experiential learning placements.

The Director of Engagement is expected to stay abreast of research on best practices in public service field education, executive training, and outreach activities. They will also be responsible for identifying and pursuing federal and state training grant opportunities.
In accordance with the UConn DPP by-laws, serves in an ex-officio capacity on DPP program committees as the career director representative. Represents the DPP at relevant university committees as related to the position's responsibilities. Maintains contact with regional and national field education organizations and listservs.
Teach the Internship graduate course.
Manage the Department's lifelong activities aimed at students, alumni, and CT's public and nonprofit professionals.
Manage the Department's alumni programs including the Department's successful mentoring program.
Strategically manage the IPP budget and any scholarships attached to that budget.
Other duties as assigned by the Head of the Department of Public Policy.
This position reports to the Head of the Department of Public Policy and works collaboratively with the Department's graduate program directors and other staff in the Department and CLAS.
MINIMUM QUALIFICATIONS
Master's degree in a related field from an accredited school.
Minimum of 3 years of full-time post-graduate experience including 1 year of experience serving as an advanced or senior team member or working as a project lead. Experience should include administrative experience in public or nonprofit organizations.
Demonstrated experience in developing and managing interorganizational relationships and partnerships.
Experience with databases for students, staff, or clients.
PREFERRED QUALIFICATIONS
More than 2 years of administrative experience in public or nonprofit agencies.
Some full- or part-time teaching experience in higher education.
Experience with data management programs for maintaining student field hours, field reports, field instructor evaluations, etc.
Experience writing federal or state training grant opportunities.
Ph.D. in public policy, public administration, or a related field.
Ability to engage, connect, and work with diverse student, administrative, and faculty populations and provide a commitment to the values of diversity, equity, and inclusion in an educational setting.
APPOINTMENT TERMS
This is a 12-month, full-time position with benefits. The expected start date is February 1, 2022. The initial salary will be commensurate with qualifications and experience.
TERMS AND CONDITIONS OF EMPLOYMENT
Employment at the University of Connecticut is contingent upon the successful candidate's compliance with the University's Mandatory Workforce COVID-19 Vaccination Policy.  This Policy states that all workforce members are required to have or obtain a Covid-19 vaccination as a term and condition of employment at UConn, unless an exemption or deferral has been approved.
Employment of the successful candidate is contingent upon the successful completion of a pre-employment criminal background check.
TO APPLY
Please apply online at https://hr.uconn.edu/jobs, Staff Positions, Search #495859 to upload a cover letter that: 1) Explains how the candidate's experience aligns with the priorities of the Department and qualifications of this position, and 2) Describes previous and potential contributions to promoting diversity through field education and/or service; current resume; and names and contact information of three references. References will not be contacted without prior permission of the candidate.
This job posting is scheduled to be removed at 11:55 p.m. Eastern time on December 24, 2021.
All employees are subject to adherence to the State Code of Ethics which may be found at http://www.ct.gov/ethics/site/default.asp.
The University of Connecticut is committed to building and supporting a multicultural and diverse community of students, faculty and staff. The diversity of students, faculty and staff continues to increase, as does the number of honors students, valedictorians and salutatorians who consistently make UConn their top choice. More than 100 research centers and institutes serve the University's teaching, research, diversity, and outreach missions, leading to UConn's ranking as one of the nation's top research universities. UConn's faculty and staff are the critical link to fostering and expanding our vibrant, multicultural and diverse University community. As an Affirmative Action/Equal Employment Opportunity employer, UConn encourages applications from women, veterans, people with disabilities and members of traditionally underrepresented populations.