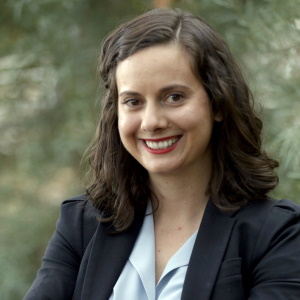 Welcome to our first 2022 edition of #TeachingTuesday with Professor Nina Brooks!
Question 1: Why did you decide to become a professor? 
I don't think I ever made a conscious decision and am often still surprised! I still text my best friend from graduate school every so often to say, "can you believe we're professors now?!". When I first went to graduate school to get my MPP, I never envisioned becoming a professor and had plans to work for in international development for an NGO or other institution. But during my masters I had the opportunity to get involved in research linking environmental, health, and economic development issues around how households cook in rural India, which set me off on my current path. So, after finishing my MPP I went on to pursue a PhD in Environment and Resources.
Question 2: What are your teaching interests? 
This semester I am teaching quantitative methods, which I am really excited about. Quantitative analysis is central to my own research and I'm excited to show students how data and quantitative methods can be used to answer policy-relevant questions. In the future, I'll be teaching DPP's policy issues class and developing some new electives on environmental data analysis. In everything I teach, you can look out for how I'll be integrating some new angles and emphasis on the environment.
Question 3: Why did you decide to come to UConn?
I came to UConn as part of a cluster hire in Environment and Human Interactions, which is really exciting because the university hired five new professors in different departments who all do environmental research. First of all, it signaled to me a real interest from UConn in supporting environmental research (and the people who do it). But it also meant I got to start at UConn as part of a small cohort of new faculty who have lots of related and overlapping interests. For me, coming from an interdisciplinary PhD program and a policy masters, I was also really thrilled to join DPP because I felt a public policy department would be a great fit!
Question 4: If you weren't a professor what would you be instead and why? 
Probably an investigative journalist, because a lot of the skillset are similar to the research I conduct as an academic. The idea of pursuing one topic for a long time and uncovering something of importance and interest to the general public is really appealing! Almost like a dissertation that other people are interested in. But if I had to pick something completely different, I'd love to run a bed and breakfast or hostel on a beach somewhere tropical
Question 5: What is your favorite thing about Hartford? 
I am so new to Hartford and I don't actually even live in Connecticut! So I would flip this question back on the DPP community – what are the best things for me to explore Hartford?
Question 6: If you could travel to any location right now where would you like to go and why? 
Right now, if I could travel anywhere, it would be Bangladesh. I have a pilot study that is delivering an energy efficiency intervention to brick manufacturers. It's the culmination of work I have been doing since the beginning of my PhD and I would love to be with our collaborators in Bangladesh helping to implement things in the field.