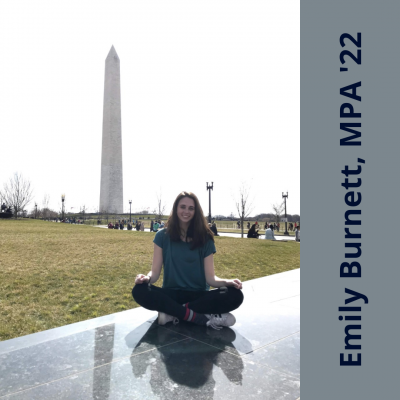 Master of Public Administration (MPA) student Emily Burnett found a love for public service when she began volunteering in high school. Over time her engagement made her realize the systemic barriers that lead to organizations needing volunteers. Her freshman year American government class also inspired her through stories of collective action that led to change.
In her sophomore year at UConn, Emily's political science advisor told her about the Department of Public Policy's (DPP) Fast-Track program. She explains, "I knew I wanted to continue my education and this was a great way that aligned with my values and vague career goals at the time and wouldn't cause financial strain." At this time, Emily also became involved in Jumpstart as a team leader. 
Now as a full-time MPA student, Emily works as an Interim Site Manager. In this role she provides supervision and support to all Corps members and ensures that each member is compliant with Jumpstart's national guidelines. She also communicates with community partners to see how the Corps can best meet the needs of preschoolers and provide meaningful and intentional services to students, staff and volunteers.
After graduation Emily hopes to work for an organization that values dignity and equity of all people. She is currently applying to administrative roles as they relate to her current position. Emily sees these opportunities as a great way to learn about how an organization works from within in order to advance. Her goal is to get involved with activists work at the macro level.