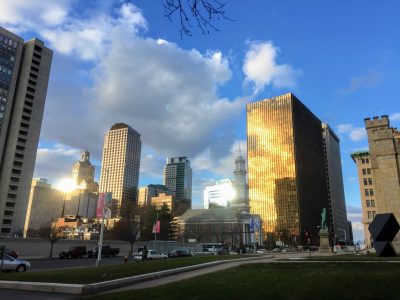 For over fifteen years graduate students in the UConn School of Public Policy (SPP) have been providing valuable services to organizations across Connecticut, and beyond, through the School's internship programming for Public Administration (MPA) and Public Policy (MPP) students. Whether these students are placed at state agencies, municipalities, or nonprofits, students couple their in-class learning with tangible management and analytical skills from real-world public sector efforts.
Since 2006 the School's internship programming has matched hundreds of students with over 100 distinct local placement sites in the public sector. Students leverage their past professional experiences and public policy course content – pulling from their academic focus areas in particular – to provide support in finance and budgeting, research design, statistical analysis, economics, policy analysis, human resources, and other key areas of public and nonprofit program management. Students have worked with over twenty different offices for the State of Connecticut, numerous towns and cities across all of our State's counties, over sixty different nonprofits, and dozens of offices within the University of Connecticut as well.
SPP graduate students can take part in our internship programming in three formats: Internship and Professional Practice (IPP), Sponsored Internship (SI), and through self-designed internships. Those students completing IPP or SI placements work 585 hours over the course of the academic year (mid-August through mid-May), and receive either a bi-weekly stipend or hourly paycheck depending on their internship format. To date there is a 100% placement rate for students pursuing such internships.
Each spring students are provided a list of host sites, along with organization and job descriptions, and are free to apply to as many positions as they would like during the application phase. Students then interview with organizations directly, with student/organization matches made throughout the late-spring. To prepare students for the process, UConn SPP hosts required resume, cover letter, and interview trainings for students – all while leveraging the expertise and guidance of our engaged alumni network and campus partners. UConn SPP is currently in the midst of this student application and interview process, and we are excited to see where our IPP and SI students are placed for the upcoming academic year.
As our SPP graduate students continue with their full-time course load, please join us in wishing them luck as they navigate this interview and matching process!
---
For questions or more information, please contact Ryan Baldassario, SPP Director of Engagement.