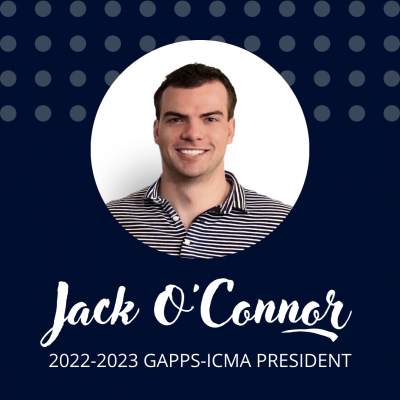 Recently we caught up with incoming Graduate Association of Public Policy Students – International City/County Management Association (
GAPPS-ICMA
) Chapter President Jack O'Connor.
Prior to coming to the School of Public Policy (
SPP
), Jack's interest in public service began in elementary school. During this time he was a member of his local Boy Scouts of America troop that involved yearly popcorn sales where he donated time and resources to raise funds for the community. Alongside his brothers he also volunteered at soup kitchens and participated in the Midnight Run in New York City with his brothers.
During his undergraduate career he began on the a Pre-Physical Therapy track and transitioned to Economics. After graduating from UConn he wanted to expand his scope of both healthcare and economics, which led him to SPP's Master of Public Policy (
MPP
).  Jack notes, "an MPP from the University of Connecticut will make me a stronger job applicant both inherently, and through additional policy knowledge and analysis skills gained in the classroom."
Currently he serves as a Graduate Research Assistant with UConn's Office of Budget, Planning, and Institutional Research. In this role he creates both forward-looking and ad hoc analyses of the University's programs, students, and workforce. Jack has also conducted both quantitative and qualitative analysis for the UConn Athletics Economic Impact Report to determine the amount of money and jobs generated within the state of Connecticut as a result of our athletics programs. Currently, he is conducting research and forecasting to support UConn's project proposal for the $1 billion Build Back Better Regional Challenge (BBBRP). He explains,
The BBBRP is a program that aims to boost economic recovery from the pandemic and rebuild American communities, including those grappling with decades of disinvestment. The Southeastern Connecticut Enterprise Region, in collaboration with the University of Connecticut, is one of the finalists to receive up to $100 million in federal grants to support our Offshore Wind project proposal.
This summer Jack will be a Healthcare Supply Chain and Operations Advisory intern at KPMG. In the fall he will complete his Internship and Professional Practice
internship
at the
State of Connecticut's Office of Health Strategy.
After graduation Jack plans to work in healthcare supply chain consulting. He hopes to take advantage of his healthcare and policy knowledge alongside his economic analysis skillsets to make healthcare services more accessible by driving down the cost of healthcare.