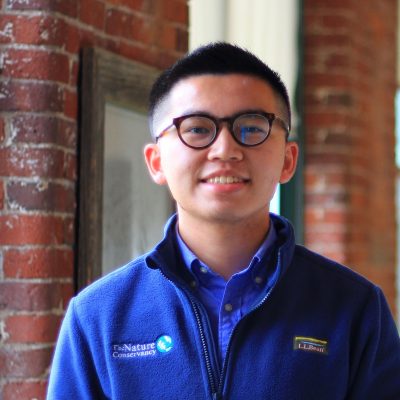 School of Public Policy (SPP) alum Ken Huang, first crossed paths with The Nature Conservancy (TNC) in 2019. Ken was in Portland, Oregon for an alternative spring break trip with UConn's chapter of Habitat for Humanity.
A former Fast-Track student, Ken completed his Master of Public Administration (MPA) last summer and began working for TNC shortly after. During the program, he took a Nonprofit Financial Management course with Adjunct Professor Dawn Brickell Bryant where TNC featured in a case study. With graduation approaching, Ken began seeking jobs in the nonprofit sector that focused on fund development. He notes, "I've always loved the outdoors and wanted to be part of an organization whose mission is to tackle climate change, conserve biodiverse landscape, and to make our world a place where people and nature can thrive together!" These goals lead him to apply to TNC.
Ken works specifically for the Maine Chapter known as the Maine Business Unit (BU). Earlier this year he was promoted to Development Program Specialist from Development Coordinator. He provides due diligence to ensure donation revenues are recorded accurately and according to FASB guidelines. He also manages the donor acknowledgement process, tracks fundraising metrics and goals and conducts prospect research on TNC's loyal donor pipeline for the Maine BU.
Within his role, Ken utilizes nonprofit financial management and fundraising skillsets he obtained from SPP coursework. He credits Quantitative Methods and Applied Research Design with helping him to prepare for work with large datasets, which he know uses to gain insight through data analysis.
While finishing our catch up with Ken we asked him what advice he would give to current students. He had this to say:
If you are not sure what specific field you want to be in, I highly recommend you that you go get coffee (in-person or virtually) or take a walk with your colleagues at your IPP host organization. You can also connect with professors or classmates with work experience. Ask them about their career paths and gain insight into different opportunities!
In job interviews ask about opportunities for collaboration and working independently, work-life balance and flexibility, opportunities for career growth and professional development, workplace culture and the interviewers favorite parts of the organization.
Don't sacrifice your mental health for a job! It's not worth it!