Recently we caught up with former School of Public Policy (SPP) Fast-Track and Master of Public Administration (MPA) Jameson Foulke. He currently works for Senator Chris Murphy in the Hartford Office as both an Outreach Assistant and Special Assistant. Learn more about Jameson in his own words below.
---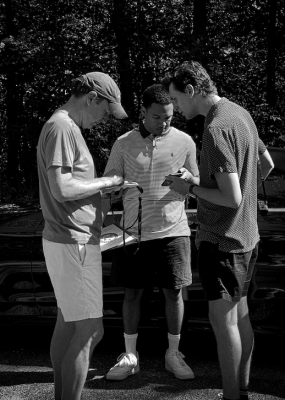 During the summer between my undergrad and grad careers at UConn (while in the MPA Fast-Track program), I interned for the Senator's office, and immediately fell in love with public service and government work. After graduating in May 2018, I joined the Senator's reelection campaign as a Field Organizer. I fell in love with this work, too. I discovered that my education in public policy was helping me have better conversations at the doors with voters we were trying to mobilize. I was able to draw on my coursework in education, labor, and social policy to show people why voting was worthwhile and why voting for Senator Murphy and the rest of the Democratic ticket was in their best interest.
After the campaign I was hired by the official side full time as the Senator's driver/body man/whatever else was needed to make his job run smoothly when he is holding events across the state. I help our outreach team with events like roundtables on medical debt or press conferences. I coordinate with our comms/press team to take pictures and videos during and after events for social media. I work alongside our scheduling team and senior staff to work out logistics and on-the-ground changes as we invariably hit traffic on the Merritt or get hung up talking to folks who stop the Senator at a gas station while pumping gas. The job is one of those amorphous, no-two-days-are-the-same types. It's also been the greatest joy of my life to get to work closely with a team as amazing as Team Murphy and especially with the Senator himself.
More recently, I have started a new role as Outreach Assistant covering the 3rd Congressional District. The outreach team acts as the eyes and ears of our respective communities, meeting with elected officials, non-profit and business leaders, and various constituent groups to bring legislative issues and other concerns back to the office. We liaise with municipal governments and state agencies to keep our legislative and casework teams up to date on all that is going on in Connecticut. Once again, my MPA has set me up for success in having conversations on topics ranging from mill rates in Hamden, to sewage system issues in Durham, conservation efforts in Guilford, and innovators in New Haven. On any given day I might have to speak with groups about rising health care costs, the Senator's foreign policy priorities, and what the passage of the gun violence prevention bill might mean for urban school systems.
If I were to name one part of my role that I love more than anything it is being part of the "Walk Crew." Every year Senator Murphy walks from one end of the state to the other, alone except for a few staff who are waiting nearby to help out in case he needs water, blister tape, or an iPhone charger. This year we began on the Massachusetts border in North Canaan and traveled south to New Haven, about 70 miles of walking (and a couple of miles kayaking on the Housatonic). Aside from being outside all week during the Summer, the walk is unequivocally the highlight of the year because it is the greatest way to reset the percolating cynicism that festers in your head when bills die in the Senate or particularly angry constituents berate you on the phones. The Walk gives Senator Murphy and the "Walk Crew" time to enjoy the state we have the pleasure of serving by chatting with folks who would categorize themselves as "normal," (though I refuse to believe there is such a thing) who would otherwise not interact with our office.
The Walk, and this job generally, are super unique. A Masters in Public Administration is by no means a requirement to hold my position, but my coursework and extra year in school via the fast-track set me up for success with Senator Murphy both on the campaign side and in our Hartford office. I've continuously been able to fall back on the lessons I learned in the program to help people all over this state and am grateful for the School of Public Policy for helping to set me on this path of public service I continue to walk on.