Welcome to our first edition of #TeachingTuesday for the 2022-2023 academic year. This week we catch up with Professor Jinhai Yu!
---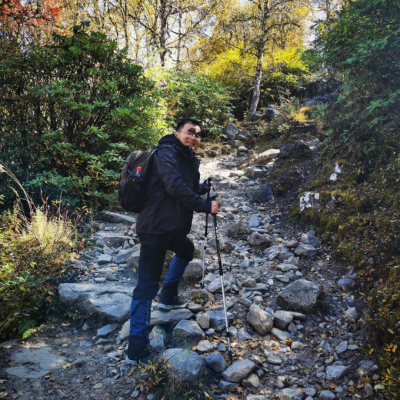 Question 1: Why did you decide to become a professor? 
I decided to become a professor quite a long time ago when I was a sophomore at college. I considered three pathways of career: a professor, a businessman, and a public servant. I thought I would be most satisfied with myself when I reflect on my whole life as a professor in retirement. I was a big fan of reading and debating in college and got the nickname "professor" among my friends. It took me the following ten years to become a real professor after completing my Ph.D. at the University of Kentucky.
Question 2: What are your teaching interests? 
I will be teaching Applied Research Design in the fall of 2022. In the spring of 2023, I will teach Public Budgeting and Finance as well as Capital Budgeting and Finance. I love teaching these courses and look forward to meeting students in class!
Question 3: Why did you decide to come to UConn?
UConn made me an offer that I could not refuse! Particularly, SPP has an excellent MPA/MPP program with a solid concentration in Public Budgeting and Finance. I have known the professors in this field since graduate school. I am so proud to be part of it.
Question 4: If you weren't a professor, what would you be instead and why? 
I rarely think about this question because I am delighted with being a professor. If I weren't a professor, I would be a small business owner running a bookstore, including a coffee shop. I fell in love with bookstores in high school, and I visit bookstores almost every new place I go. Owning a bookstore would allow me access to unlimited books. But nowadays, a traditional bookstore faces much competition from e-commerce and e-books. So, I think an affiliated coffee shop may be a good solution to meet ends. (If you find my "business plan" silly, please return to Question #1 for why I decided to become a professor instead of a businessman.)
Question 5: What is your favorite thing about Hartford? 
At this point, I must admit that I am just about to explore Hartford because I am joining UConn in late August 2022. My favorite hobby is fishing. If I could find a place for fishing in or nearby Hartford, that must be one of my favorite things!
Question 6: If you could travel to any location right now where would you like to go and why? 
I would like to go to my hometown, a small village in middle China, to live there like a farmer for one year. Since K-5, I left home and lived in dormitories for schooling. I miss the four seasons of the small village: wild peach blossom in the spring, corns and cicadas in the summer, yellow leaves in the fall, and foggy mountains in the winter. I did not fully appreciate the beauty of these things when I was a kid. But when I thought I did, I could only go back in summer or winter breaks—I never had a chance to see the whole four seasons in my adulthood.