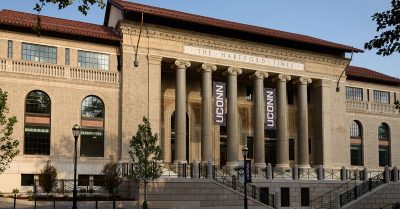 The School of Public Policy (SPP) and the Department of Economics (ECON) are jointly seeking a full-time Outreach Assistant (Educational Program Assistant 2) to lead regional recruitment efforts for the School of Public Policy's executive-track Master of Public Administration (MPA Fellows) and the Department of Economics M.S. in Quantitative Economics (MSQE). The Outreach Assistant proactively identifies prospective students and works with them throughout all stages of the admissions process from inquiry to application submission. This position is responsible for communicating with prospective students daily, generating new leads with substantial follow-up, maintaining inquiry information in a CRM system, attending in-person and virtual recruiting events, and hosting in-person and virtual information sessions. The position is based at UConn Hartford in Hartford, CT with the expectation of weekly travel to the UConn Stamford and UConn Storrs campuses. In-state and regional out-of-state travel as well as evenings and weekends will be required in support of program needs.
DUTIES AND RESPONSIBILITIES
Developing overall recruitment strategy for the MPA Fellows and MSQE programs including, but not limited to, information sessions, workshops, public sector, and corporate outreach.
Leading and executing regional recruitment initiatives in an effort to achieve enrollment goals.
Creating, preparing, and updating promotional materials for recruitment, info sessions, event promotions, company visits, and university visits.
Serving as a liaison and first point of contact between prospective students and organizations.
Performing outreach and collaborating with organizations to establish stable and ongoing relationships in support of program recruitment.
Representing MPA and MSQE programs at recruitment events; serving as a liaison to University offices and departments, as well as to external agencies.
Generating leads, establishing and maintaining relationships with prospective students through calls, emails, meetings, and other initiatives as necessary.
Entering lead information into CRM system and maintaining inquiry database.
Creating reports regarding prospective student data to develop strategic recruitment strategies and identify and document student tracking methods to determine yield rates from various outreach activities.
Initiating and maintaining regular communication with prospective students to provide a high level of customer service, as the first point of contact, and counseling prospective students throughout the application process.
Developing print, digital, and email campaigns, and web content.
Other duties as assigned.
MINIMUM QUALIFICATIONS
Bachelor's degree and two years of related experience.
Two to three years of related experience.
Excellent public speaking skills.
Strong organizational, interpersonal, and written communication skills.
Demonstrated ability for accuracy and attention to detail.
Willingness and ability to work evening and weekend hours on occasion in support of the School and/or program activities.
PREFERRED QUALIFICATIONS
Experience planning and promoting programs or events.
Experience utilizing technology in work responsibilities.
Experience with customer relationship management (CRM) technology, such as Slate or similar software.
Proven experience working well as part of a team.
Demonstrated excellent ability to work effectively with students as well as external agencies/groups and the public.
Ability to engage, connect, and work with diverse student, administrative, and faculty populations and provide a commitment to the values of diversity, equity, and inclusion in an educational setting.
APPOINTMENT TERMS
This is a full-time, end-date, annually renewable position based in Hartford, CT which will require frequent travel to the Storrs and Stamford campuses. The salary range for this position is $50,000 to $52,000. The University offers outstanding benefits, including employee and dependent tuition waivers at UConn, and a highly desirable work environment. For additional information regarding benefits visit: https://hr.uconn.edu/employee-benefits-overview/. Other rights, terms, and conditions of employment are contained in the collective bargaining agreement between the University of Connecticut and the University of Connecticut Professional Employees Association (UCPEA).
TERMS AND CONDITIONS OF EMPLOYMENT
Employment of the successful candidate is contingent upon the successful completion of a pre-employment criminal background check.
TO APPLY
Please apply online at https://hr.uconn.edu/jobs, Staff Positions, Search #497156 to upload a resume and cover letter detailing how you meet the qualifications, and contact information for three (3) professional references.
This job posting is scheduled to be removed at 11:55 p.m. Eastern time on February 22, 2023.
All employees are subject to adherence to the State Code of Ethics which may be found at http://www.ct.gov/ethics/site/default.asp.
The University of Connecticut is committed to building and supporting a multicultural and diverse community of students, faculty and staff. The diversity of students, faculty and staff continues to increase, as does the number of honors students, valedictorians and salutatorians who consistently make UConn their top choice. More than 100 research centers and institutes serve the University's teaching, research, diversity, and outreach missions, leading to UConn's ranking as one of the nation's top research universities. UConn's faculty and staff are the critical link to fostering and expanding our vibrant, multicultural and diverse University community. As an Affirmative Action/Equal Employment Opportunity employer, UConn encourages applications from women, veterans, people with disabilities and members of traditionally underrepresented populations.