Recently we caught up with UConn School of Public Policy (SPP) alum Jayhon (Jay) Ghassem-Zadeh. A 2015 Master of Public Administration (MPA) graduate, he notes,
I recently started a new role at Capgemini Government Solutions where I focus on making meaningful, technological, impacts at the Department of Justice and broader federal law enforcement agencies. I look forward to continuing my work in supporting the missions of law enforcement and using innovation to create safer communities.
Catch up with Jay via Q & A below!
---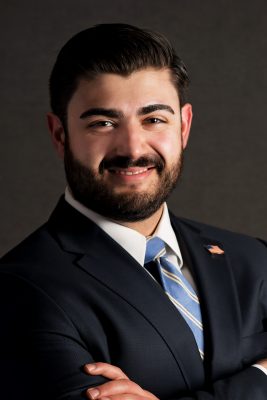 Where did your love of public service begin?
Like most kids, my brothers and I spent most of our time playing outside. Whether we were biking around the neighborhood or playing baseball in the driveway, outside was our arena and we took that very seriously.
One day, our town repaved our street and we noticed it was different than what we were used to. Instead of the smooth asphalt that we knew and loved, it was replaced with sharp pebbles that lead to many injuries; not to mentioned it seriously limited our roller blading/skateboarding.
After hearing our complaints, my parents suggested that we write a letter to our mayor to express our frustration. While we were incredulous at the time, my parents reminded us that regardless of age, participating in civic discussion and keeping an open dialogue with community leaders was critical. Coming from Iran in the late 70s, it was what my parents loved most about America.
Despite our doubts, we wrote the letter and, in the meantime, found new ways to play. A few weeks later, much to our surprise, we received a letter from town hall. While they couldn't change the road, the mayor expressed his appreciation for our feedback and promised to send a copy of our letter to the Public Works Director.
While we didn't get our beloved roads back, I discovered my passion for public service and policy. What were the other "pebbled roads" out there that could use my help? How could I help improve the quality of life for my community? From that moment on, I was hooked.
---
Why did you decide to pursue a MPA with UConn SPP (then DPP)?
I knew public policy and government was the path I wanted to pursue, but I was stuck between getting my MPA and law school. I was absolutely torn between the two and had a really hard time deciding.
In an attempt to find clarity, I reached out to Professor Bill Simonsen out of the blue to get his perspective. For those that do not know Professor Simonsen, he was the director of the MPA program, taught several courses at the Storrs campus, and participated in numerous national boards, ongoing research, etc.; in short, he is a busy guy.
Despite his rigorous schedule, he agreed to meet at the UConn Student Union and answered every single question I had. While I was impressed with all aspects of the MPA program, Professor Simonsen's interest and dedication to helping me figure out my dilemma was what won me over.
I knew that a program with professors that prioritized its student's well-being and future was a place I wanted to learn and shape my ability to be an effective policy practitioner.
---
How did your internships with Capitol Region Education Council (CREC) and the Town of Mansfield prepare you for future roles with Loudon County and Capitol Region Council of Governments (CRCOG)?
My internships at CREC and the Town of Mansfield were invaluable to my career. First and foremost, to learn under MPA All-time-greats like Matt Hart and Maria Capriola was the highlight of my time at the program.
What I found most impactful about the Internship and Professional Practice (IPP) program was the opportunity to learn diverse perspectives across a variety of disciplines. CREC provided me with valuable insights into the world of education, charter schools, and technical assistance. The Technical Assistance and Brokering Services (TABS) Division creates tailored solutions that focused on student success, staff development, and systemic change. My career as a consultant, similarly, focuses on collaborating with institutions to design mission oriented solutions and managing change to optimize success.
The Town of Mansfield gave me a front row seat to how government works in real life. The most impactful work on my development was aiding the implementation of the first ever suit of International City/County Management Association (ICMA) performance metrics. Engaging stakeholders to design and capture Key Performance Indicators (KPIs) is a skill that I still use to this day.
Overall, coupling what I learned in the classroom with what I observed on my internships provided me with a robust public policy experience that I was able to leverage throughout my career.
---
How did you utilize your MPA skill sets to make the transition to consulting?
I am not sure there is much of a difference between the skills used by a typical MPA graduate role, like a Management and Budget Analyst, and a consultant. In both roles, you need to monitor and forecast performance, identify obstacles and challenges, and continuously improve workflows.
If we build and develop a toolbox of skills throughout our careers, the MPA is a fundamental staple of that box. I rely on frameworks and methodologies I learned in the program everyday and they help me scrutinize the veracity of other tools. Master of Public Policy (MPP) and MPA students should continue to add tools like Agile, Project Management Professional (PMP), and beyond.
---
What inspired you to start your own consulting business?
When I started my consulting business, I wanted to focus on the relationship between private industry and local public sector agencies. Through projects like the Connecticut Education Network (CEN), I learned that public sector agencies could leverage private sector innovations to maximize their impact. On the other hand, I wanted to leverage my knowledge of public sector needs and institutions to facilitate private sector collaboration.
---
How did your business and MPA skillsets allow you to succeed in a Senior Management role at Lafayette Group and later Associate Booz Allen Hamilton?
It is in my nature to have an insatiable curiosity about the world and overcome the "pebbled roads" out there. The most impactful asset that I took away from the MPA program is the framework I use to observe and interpret the world and its obstacles. I was lucky enough to be in the program at a time when government was standardizing the adoption of performance metrics across federal agencies. This was a time when data driven decision making in government was empowered by the adoption of new technology that enhanced our ability to measure and observe. The MPA program not only helped me see and interpret the huge changes in the field, but how to facilitate meaningful growth and build on top of the progress being made.
I am also enormously grateful to the faculty and staff of the MPA program for their continued mentorship and willingness to impart wisdom/advice. I know there were a few times after I graduated where I reached back out to my professors to talk through issues and get perspectives on challenges.
I am also grateful for the incredible network of world-class alumni who continue to leverage their experience to do phenomenal work and aid others in need.
The UConn MPA program helped me succeed in my endeavors because I feel just as supported and part of the community today as I did that first time I met with Professor Simonsen at the Student Union.