UConn School of Public Policy (SPP) Master of Public Administration (MPA) alum Michelle Skowronek (MPA '22) is currently in Cairo, Egypt. We recently caught up with Michelle to discuss her continued commitment to environmental sustainability and how she ended up in Cairo!
---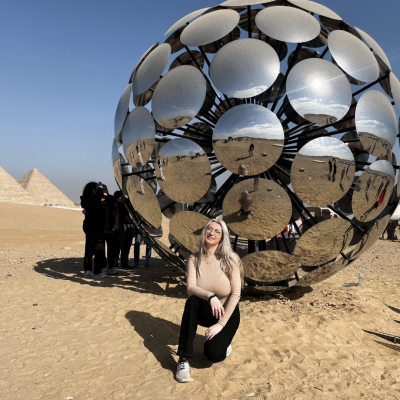 I come from a first-generation lower income status household, so as soon as I was able to afford to, I started to travel and explore. I've enjoyed every country that I've been to but once I arrived in Cairo, I saw that it had everything that I needed to be satisfied with my life. Most importantly, I saw the potential in Egypt.
Once I started to meet people here, one conversation topic always came up in the discussions. Everyone agrees that Egypt has all of the materials to become a successful country, they just wish to see that progress within our lifetime. I completely agree with this. There is a greater amalgamate of all different types of individuals here than I have ever experienced.
The creativity, ambition, and community here is unlike anything else in the world, and Egyptians themselves will say that living here is like a movie. "Like a movie" doesn't mean that we are disassociated from reality, it means that every day provides remarkable opportunities for everyone here simply because of the physical urban proximity we have to each other on a daily basis, the culture of community, charity and humor, and the eagerness most people have here to try new things. While there is still financial poverty in many places, especially in the rural areas, Egyptians say that there is a different kind of wealth that you can only experience living here. I feel it, and I agree with it completely. So Cairo is very much my home now and I am honored to use the skills I have now to make it better.  
Community here doesn't require any building – it is already here for you as soon as you arrive. Once you meet one person, you are then introduced to their forty other friends and family and then their cousins and then the cousins' friends, and soon everywhere around Cairo is considered your home. Actually, it only took two weeks for me to discover friends who are sustainability specialists, photovoltaic engineers, authors and urbanists, just to name a few similar careers to my own.  
During my free time I am eating, laughing with friends, staying up until 5am on the side of the road drinking coffee and dancing (sleeping is uncommon here, you can have a business meeting or dentist appointment at 1am and it is normal). I am really living life as it is meant to be lived. 
In my professional career, I've joined a sustainable waste management supply chain solution startup developed by Mr. Tamer Youssif. I'm using the skills I've learned at SPP to assist with crowdfunding, grant-writing and stakeholder management. I'm also assisting Triple M Farm with educational volunteering projects to provide students a road to careers in sustainability. I really just want young people to know that regardless of their abilities, there are always career options in sustainability, be it on the technical side or on the creative side. In addition to this, I am a freelance researcher, proofreader and ghost-writer. 
Most of everything that I utilize in my professional life now I learned at SPP. I write memorandums, take meeting minutes, and I'm able to articulate what I know fluently and coherently to people who are not professionals in this field. I know how to collect and manage data. Overall SPP has taught me how to be organized and confident in my personal and professional life. 
---
[We asked Michelle about how she ended up lecturing at the Egyptian Chinese University after seeing a recent LinkedIn post. She added the following to her update.]
I was eating dinner with my friend's family and discussing my academic and professional experience when one uncle suggested we go up to meet his friends at Triple M Farms in Ismaila. The trip there was extremely enlightening and the individuals I met also work at the Egyptian Chinese University. After an interview, I was given this opportunity to introduce sustainable design and community development to engineering students. There was no position like this previously so I am excited to bridge the gap between engineering and sustainable creativity.