New Students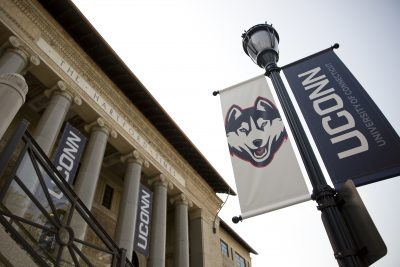 This fall the Department of Public Policy (DPP) is welcoming over 130 new students across our graduate and undergraduate programs. Our incoming graduate students hail from twelve states, and Canada. Sixteen individuals have advanced degrees in a variety of fields including architecture, business, engineering, fire science, international relations, medicine and psychology. 
Almost 90 new students will be joining our programs in public administration (MPA), public policy (MPP) and survey research (MASR). Our newest MPA Fellows are now featured on our Meet Our Current MPA Fellows page!
On Thursday, August 27, the DPP hosted its first virtual orientation for the incoming MPA, MPP and MPA Fellows students. More than 70 new students attended and learned about the year ahead. Last year's orientation had some rain, and 2020 of course had to be more extreme. A storm blew through Connecticut and folks across the state, including orientation attendees, lost power. 
At the undergraduate level, our newest Fast-Track students are majoring in Business Administration, Communication, Economics, Italian Literature & Cultural Studies, Neuroscience, Organizational Dynamics and Leadership, Political Science, Psychology, Urban and Community Studies and Pre-Teaching.
---
Dr. Gleema Nambiar
Dr. Gleema Nambiar will be teaching PP 5325 Labor-Management Relations, Negotiation & Contract Management this fall. She holds a PhD in Sociology from McGill University where she completed a dissertation that examined workplace politics in a large film-making institution in which labor, identity and craft skill issues were analyzed. She has also been a lead researcher on projects gathering both quantitative and qualitative data on healthcare professions, senior living conditions, and employment prospects for detained and free teenagers. Over the past few decades, she has been involved in union organizing campaigns, has sat on union executive boards, and has taught Labor Studies and Sociology courses. 
---
Assistant Professor Ruodan Zhang
Ruodan Zhang is an Assistant Professor in the DPP. She holds a PhD in Public Affairs and a MPA from Indiana University. After completing her Bachelor of Science in Politics and Philosophy from the University of Hong Kong, Ruodan worked in the capacity of event and program management for multiple foundations/NGOs in the Greater China Region. Her primary research interests include nonprofit management and volunteerism. This fall Ruodan is teaching PP 5331 Quantitative Methods for Public Policy and PP 5336 Fund Development and Nonprofit Sustainability.