Welcome to a new academic year. This year we hope to overcome the crisis caused by the COVID-19 pandemic, to experience economic recovery, and to come to a national consensus that Black Lives Matter. I am looking forward to contributing together with our alumni, students, faculty, staff, and community to a healthy, prosperous, and fair and equitable society. In this short note, I would like to give you a quick update on the state of the Department.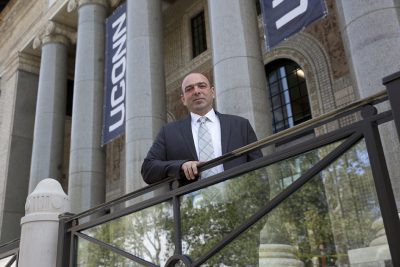 A few days ago the Department of Public Policy welcomed 90 new Master of Public Administration (MPA), MPA Fellows, Master of Public Policy (MPP), and Master of Arts in Survey Research (MASR) students. This is the largest and most diverse incoming class in our Department's history. This is also the third year we break our admission and enrollment records. With growth comes a responsibility to maintain the quality of education and services to our students ranging from class sizes to internship and job placements. I want to assure our community that we would never advocate for enrollment growth over quality. In fact, our growth is allowing us to provide more focus areas and specialized courses to our students. Our faculty, staff, and I will always prioritize positioning our students for successful careers upon graduation.
Our Internship and Professional Practice (IPP) program is also seeing record engagement this year. Our students will complete more than 30,000 internship hours in public and nonprofit organizations this Fall and Spring. Our mentoring program also engaged many of our alumni in its first two years, and is off to an excellent start this year. So far, 170 of our students have received the mentorship and support of 170 alumni and community leaders. Many thanks to our mentors.
We will continue to post all job announcements on our alumni LinkedIn and Facebook pages. Last year, we also launched a moderated career listserv as a service to our students, alumni, and regional employers. If you have a position announcement to make, please email it to DPP@UConn.edu and we will forward to the listserv and post to our social media. We would appreciate you letting your HR staff know that we provide this service. Recent alumni are automatically added to the listserv while alumni who graduated more than two years ago can request to be added by contacting DPP@UConn.edu.
Over the past two years the Public Service Executive Leadership Collaborative (PSELC) brought professional development opportunities to our alumni and the State's public service community. In its first two years, this initiative enrolled more than 300 trainees in its 14 workshops. This year, the Collaborative is offering 9 virtual workshops.
I would like to bring your attention to our Bouncing Forward series this fall. The two panels address social disparities and local government challenges as we bounce back from the pandemic. These panels are free and open to the public. Please share the flyer with your network.
Our redesigned Encore!Connecticut program had over 30 Encore fellows last year. We are planning a virtual program for 2020-2021. Our team is already looking forward into how our Encore!Connecticut program can benefit from a blend of virtual and in-person training.
Last year, our faculty formalized our specialization or elective courses into different focus areas. In addition to our six existing focus areas, our MPA and MPP students will now have the opportunity to specialize in Urban Planning, State & Local Government Management, and Public Policy, Diversity & Inclusion. Our MASR students will have the also have the opportunity to specialize in Media and Communication Campaigns offered in collaboration with the UConn Department of Communication.
As busy as we are today, we continue to strategically think about the future of the Department and its programs. A faculty committee is currently working on a DPP strategic plan that will engage our faculty, students, staff, alumni, and other constituents. Our recent external program review recommended a bigger investment in our Department through expanding our degree offerings, creating a UConn School of Public Policy, and funding an applied policy research center. We look forward to exploring these ideas during this academic year.
Finally, my family and I wish you and your family a healthy year.
Sincerely,
Mohamad G. Alkadry, Ph.D.