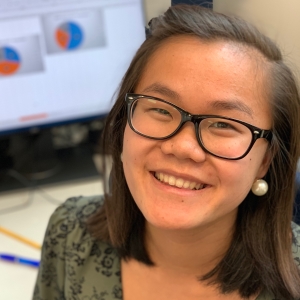 Lian Kish '17 (CLAS), '18 MPA is the Department of Public Policy's (DPP) outreach coordinator and is the first point of contact for students interested in our programs. Kish travels throughout the region speaking with prospective graduate students at various fairs, information sessions, and conferences. Thanks to her remarkable efforts, enrollment in the Department's programs have continuously grown three years in a row.
Kish manages DPP's social media strategy (LinkedIn, Facebook, Twitter, and Instagram), and is the creative mastermind behind the DPP's Instagram page, which has gained over 500 followers in just two years. "We are so fortunate to have Lian on our team," said Catherine Guarino, administrative program director for the Department. "She is always going above and beyond to assist students and has taken tremendous initiative to improve the admission pipeline from inquiry to application to matriculation."
In addition to her outreach work, Lian is the advisor for the DPP's Graduate Association of Public Policy Students (GAPPS) – International City/County Management Association (ICMA) student organization and she serves on the UConn Career Champion Advisory Board. This summer, her admission and registration expertise was vital in ensuring our new students make a successful transition to their graduate program.
She has played a key role in helping new and returning students navigate the ever-changing academic landscape during the COVID-19 pandemic.  MPA and MPP Program Director Eric Brunner noted, "Lian was instrumental in assisting with student admissions and the administration and coordination of the MPA and MPP programs over the last six months. I can't thank her enough for all her tremendous work."
Department Head Mohamad Alkadry added, "During COVID times, Lian's energy and motivation were an inspiration to many of us. On a week's notice, Lian redesigned our outreach strategy from face-to-face information sessions to remote program promotion and information sessions. The results of her efforts were excellent. She was also exceptional in handling an added workload due to staff leave. For that, we are very grateful."
Kish is a proud Husky having earned her BA in history and political science, a Master of Public Administration, and a Graduate Certificate in Nonprofit Management from UConn.