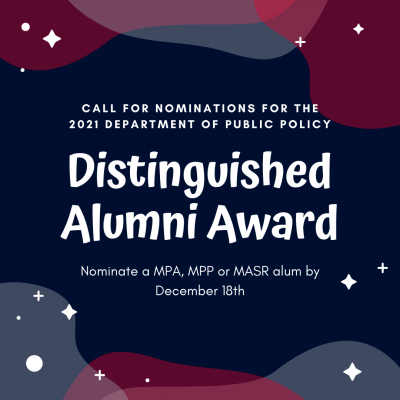 The Department of Public Policy's (DPP) Alumni Council is calling for nominations for the 2021 Distinguished Alumni Award! Members of the DPP community are invited to nominate a stand-out colleague that is making an impact on their field.
Award Criteria: Open to any graduate of the DPP's Master of Public Administration (MPA), Public Policy (MPP), or Master of Arts in Survey Research (MASR).
Recipients must:
Have made a significant impact in their field (public administration, public policy, or survey research). Significant impacts can be made at any level in their career.
Demonstrate strong leadership and influence.
Maintain high ethical standards.
Nominees may work in either the public, private or nonprofit sectors.
There are no geographic limitations. Alumni residing anywhere in the U.S. or internationally may be recognized.
Self-nominations are accepted.
How to Make a Nomination:
Email the Vice President of the Alumni Council, Doug Shipman, MPA '16, by Friday, December 18, 2020 with a statement of support outlining the nominee's accomplishments and impact (it does not need to be lengthy). Resumes, CVs, links to news articles or other accomplishments may also be submitted, if desired. Please include contact information for yourself and the nominee.
The award recipient will be announced in spring 2021 and may be called upon to participate in a virtual award ceremony and discussion.