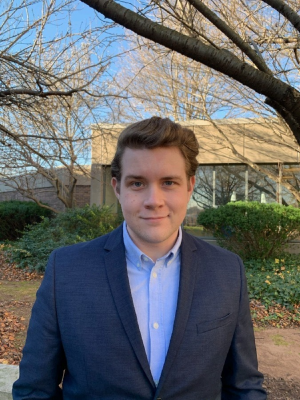 The Graduate Association of Public Policy Students (GAPPS) is the official student organization for Department of Public Policy (DPP) students. We have been recognized by the International City/County Management Association (ICMA) since 2018. GAPPS' goal is to serve as a social and intellectual community for students pursuing a master's degree or certificate in the DPP. Throughout the academic year, we plan and host a multitude of events that enrich students' social and academic experiences. We are also committed to public service and professional development.
I am a second year Master of Public Policy (MPP) student and have served as the President of GAPPS since August 2020, alongside Vice President Lordie Rene (MPA '21), Treasurer Alexandra Thomas (MPP '21), and Secretary Lena Nagorna (MPA '21). Acting as an officer of a student organization during a pandemic has been an interesting challenge to say the least. Many of the annual events that GAPPS has historically held in person had to be revamped to be virtual. For example, our "Friendsgiving" event could no longer involve a crowd of students in one room sharing home-made food, for obvious safety reasons.
However, this situation has also provided an opportunity to think of totally new ideas for events. Instead of holding our traditional Friendsgiving, we created a list of activities over Zoom, including sharing Native American history and following art tutorials to draw turkeys. We also hosted a Halloween-themed movie night and mailed snacks to participants. Meeting new people is a core experience of graduate school which has become increasingly difficult as classes go virtual. I found it important to hold these social events where students could connect and get to know each other outside of classes.
In the future, we will be holding several similar events to give students further opportunities to meet and socialize with each other. Additionally, we are always letting students know about relevant professional and volunteering possibilities. If you are a student pursuing education with the DPP, please look out for the emails we send to all students to hear about upcoming events and updates.