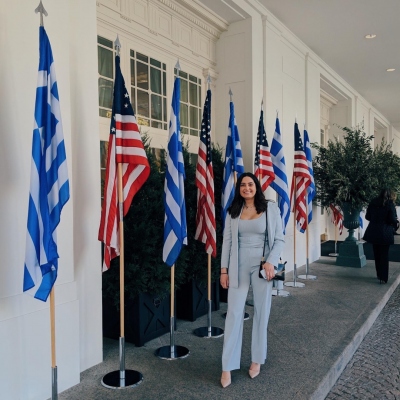 After completing her undergraduate degree, Department of Public Policy (DPP) student Tatiana Tsaprailis (Nonprofit Management Certificate 2021) knew that she did not want to pursue a career in the private sector. Instead, she dove headfirst into the Maids of Athena, a nonprofit organization she has been a member of since the age of 13. Between 2015 and 2019 Tatiana served on the board of the nonprofit in the positions of treasurer, vice president and president.
When exploring programs, UConn stood out to Tatiana immediately as her top choice. She explains, "I loved that the program enabled you to use your past experience and gave you real-world scenarios to learn from." Tatiana also notes that the program provided an opportunity for a strong foundation in the overall workings of the nonprofit sector with opportunities for specific skills in fund-development, planning and grant writing.
About her future, Tatiana says, "I hope to become an advocate for those in need, and to work hand-in-hand with communities to address these issues and build towards a safer and brighter future." She realized her goal of working in the nonprofit sector after working with The Smile of the Child and Penelope's Place, which sparked her desire to provide funds and awareness.
The Smile of the Child is an organization based out of Athens, Greece, which provides housing and schooling to children dealing with poverty, violence, human trafficking or illness.

Penelope's Place, in Brockton, MA, works with domestic violence survivors, providing them with housing and working with them to rebuild their lives. 
A fun fact about Tatiana is that she has traveled to twenty-two of America's fifty states, but only five of Canada's ten. She notes that this is "… a little blasphemous seeing as that I am Canadian." Currently she is learning to speak Spanish and is fluent in Greek after attending Greek school every Saturday growing up.