A focus area allows students to develop additional expertise in a specific area. The Master of Public Administration (MPA) program requires nine credits (three courses) and the Master of Public Policy (MPP) requires twelve credits (four courses) to complete a focus area. Students can choose a focus area within the Department, develop their own with the help of their advisor, or choose to remain a generalist. 
---
The Department of Public Policy (DPP) offers both a focus area and Graduate Certificate in Nonprofit Management. Students can complete the certificate alongside their degree. The DPP's nonprofit coursework provides students with the knowledge, tools and peer-to-peer interaction needed to help them thrive in their nonprofit work and career. The Director of the DPP's Nonprofit Leadership program is David Garvey.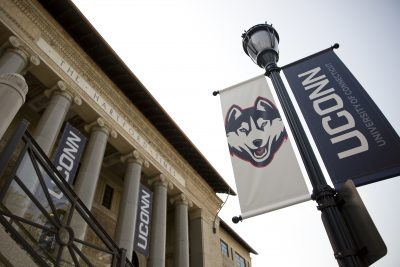 Faculty with research interests in this area include Professors Amy Donahue, David Garvey, Deneen Hatmaker and Ruodan Zhang. DPP alum Jason Jakubowski will be joining the DPP faculty this semester to teach PP Nonprofit Advocacy, Government Relations, and Law. Our adjunct faculty also includes Dawn Brickell-Bryant, CPA, Alyssa Goduti, President and CEO of Ädelbrook Behavioral and Developmental Services, and Anne McIntyre-Lahner, former Director of Planning and Evaluation, CT Department of Children and Families.
Coursework in this focus area includes:
PP 5319: Program Development:

This course is geared toward professionals who are engaged in, or preparing to enter, the nonprofit sector. The course will focus on program development and program evaluation, their interconnectedness, and how that interconnectedness can support nonprofit professionals in increasing program effectiveness. Topics include program planning frameworks, program development, performance measurement, performance management, data collection, and evaluation.
PP 5328: Business Functions of Nonprofit Organizations:

This course examines the principles, issues and skills of financial management and accountability in managing the financial resources of a nonprofit. Topics include variance analysis, nonprofit accounting, financial statement and ratio analysis, forecasting, cash flow analysis, internal controls, and other key financial tools. A strong focus is placed on developing your proficiency in the use of financial data for organization and program decision-making, and to communicate and work with organization stakeholders (governing boards, funders and community) in using financial data and tools.
PP 5324: Grant Writing and Government Contracting: 

This course will provide the student with the core understanding and approaches to researching private and government grants to fulfill the work of a nonprofit. The course provides a strong grounding in grant and proposal writing that supports the usage of program outcomes, financial, and qualitative data to "tell the story" of a nonprofit and its case for financial support. The course also provides a strong foundation in the skills essential to responding to RFPs for government contracts for service provision, along with examining the pros and cons of contracting with government agencies. In addition, the course will focus on the holistic organizational system approach to responding to grants and government contract RFPs, along with collaborative multi-agency collective strategies which can strengthen proposals and the impact of final deliverables.
PP 5323: Leading and Governing Nonprofits: 

This course examines the strategies and skills of leading and governing that support the building of a healthy and sustainable nonprofit organization that meets the needs of its community and stakeholders. A strong focus is placed on applying leadership skills that build the organization, engage with the community and manage strategic partnerships. In addition, a strong emphasis of the course focuses on developing effective nonprofit governing boards operating practices and cultivating the key working partnership with the CEO.
PP 5329: Nonprofit Advocacy, Government Relations, and Law:

This course will provide students with a comprehension of the legal landscape, rights, and obligations in which nonprofit organizations operate in the United States. A second pillar of the course is the examination of advocacy practices of nonprofits with government in support of its client communities, and the support community voice and action in civil discourse and grass roots action with government and other stakeholders. The course will also the review of the legal and tax implications related to advocacy, lobbying, and political activity of nonprofit organizations.
PP 5336: Fund Development and Nonprofit Sustainability:

This course will provide the student with the important skills to address the key questions and practical applications of developing funding to support the financial requirements for nonprofits to meet their mission. Key to this learning objective will be the development of the skills needed to create a fund development plan that uses diverse funding strategies to meet nonprofits' long-term financial sustainability requirements. We will examine essential aspects of key philanthropic funding methods: general fundraising, annual fund, major gift, capital, planned giving campaigns, and the demographic dynamics of giving. The course will also investigate the growing usage of new revenue development methods; such on-line giving, earned-income enterprise, social impact bonds, and other developing methods of funding for organizational sustainability.
Students who intend to pursue the Certificate in Nonprofit Management must complete PP 5323: Leading and Governing Nonprofit Organizations and PP 5328: Business Functions for Nonprofits.