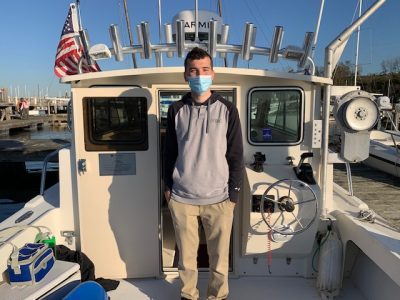 Master of Public Policy (MPP) student Spencer Kinyon is currently completing an Internship and Professional Practice (IPP) placement at Save the Sound as a Climate Policy Intern. Last semester Spencer developed an engagement strategy to improve relationships with youth in Connecticut. The engagement strategy included an advocacy tool-kit for youth organizations to explore to better understand state government, environmental issues in Connecticut, and Save the Sound.
This semester he has been reaching out to college organizations to present the advocacy tool-kit at their meetings. Spencer, a former DPP Fast-Track student, assisted the Long Island Soundkeeper earlier this semester with data collection on Long Island Sound (pictured on the left).
At his IPP, Spencer has also assisted the Save the Sound legal staff with policy research on how to improve Connecticut's environmental justice law. He explains, "I have developed an understanding of Connecticut's current environmental justice law and policies, and compared it to environmental justice laws in other states and cities."
This Saturday, April 3, Save the Sound is launching their new monthly "Youth Eco Advocacy Corps," which Spencer helped organize. This monthly roundtable kicks off at noon and will discuss environmental and climate policy. They invite Connecticut youth to join them and share their thoughts on environmental policy and the role of youth in the environmental movement. The "Youth Eco Advocacy Corps" will provide youth and students with a network of youth environmentalists across Connecticut who wish to advocate to protect Connecticut's environment.