Welcome to the Department of Public Policy's (DPP) sixth edition of Teaching Tuesday! Throughout this semester we featured faculty on Tuesdays and taught you a bit about their lives outside of the classroom. Each faculty featured was asked a few questions and we posted their responses without a filter. Our last feature for Spring 2021 is Professor Mark. D. Robbins. We look forward to sharing our faculty with you again this fall and hope you enjoyed learning some fun facts that you may not have previously known.
---
Question 1: Why did you decide to become a professor?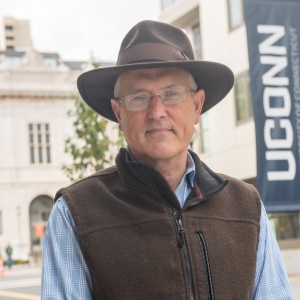 I started graduate school to become a finance director or executive director but I really liked that analytic work and somehow got the research bug. Bill Simonsen encouraged me to get a PhD and so I did. Thus began my dissent into a life of arcane obscurity.
Question 2: What are your teaching interests? 
I teach in the areas of public budgeting and finance, budgeting, taxation, and financial management.
Question 3: Why did you decide to come to UConn?  
There was an opportunity for several of us with similar interests to come to UConn at the same time. That rarely happens, so I jumped at the chance. Bill Simonsen, Bob Bifulco and I joined Amy Donahue at UConn in 2001. It was a dream team moment.
Question 4: If you weren't a professor what would you be instead and why? 
The most likely alternative would have been a think tank like the Public Policy Institute of California.
Question 5: What is your favorite thing about Hartford? 
The otters under the boathouse in Riverside Park. (Please don't tell me they are really rats. I've had too many disappointments this year already.)
Question 6: If you could travel to any location right now where would you like to go and why? 
Bhutan. It is beautiful, almost Covid free and has out-vaccinated the rest of the world (NYT 4-18-21).