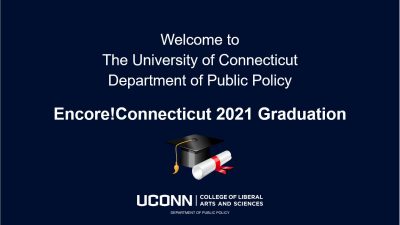 On the morning of Saturday, April 10 the University of Connecticut Department of Public Policy (DPP) proudly celebrated the graduation of 23 Encore!Connecticut Fellows.  Encore!Connecticut is a professional development experience that helps seasoned corporate professionals transition their skills and experience into the nonprofit sector. Dr. David Garvey, Director of Encore!Connecticut welcomed graduates, sponsor organizations, invited guests, and, of course, the graduates.
Dave started the program by introducing the keynote speaker, Kerry Hannon, Author and Journalist.  Ms. Hannon is a columnist and regular contributor to The New York Times, MarketWatch, Forbes, Next Avenue, and AARP. Ms. Hannon has testified before Congress about the importance of older workers, and is an award-winning author of over a dozen books on the topics of employment and work in the second half of life. Kerry's latest book is In Control at 50+: How to Succeed in the New World of Work, will be published by McGraw-Hill this year. One of Kerry's final messages to the graduates was to be curious and learn new things. Encore!Connecticut is that springboard to move you forward.
Our class speaker, Denise Massingale-Lamb shared her message of synchronicity. She finds that casual interactions can actually be meaningful coincidences, luck of the universe. She attended a networking session where she met a woman who told her about the Encore!Connecticut program. She joined the class because of this synchronicity. She looks for ways to forge partnership alliances and be impactful with her life. This synchronicity will help all the Fellows continue their journey into the nonprofit space and to make an impact.
The three Encore!Connecticut co-leads offered a few words to the graduates. Bob Francis congratulated the class and is looking forward to getting together in person.  David Nee told them to make room for introspection and to remember "being an Encore!Connecticut grad is like being a Marine, it's not something you did, its something you are." Scott Wilderman of Career Resources shared a story about a friend where he came away with the thought "it's not where you end up, its just that you start. Don't be afraid to start over and remember to enjoy the journey."
The ceremony continued with a thank you to all our participating fellowship organizations and to the supervisors who worked with the Encore Fellows.  Dave Garvey congratulated each student and the ceremony ended with a 'Tribute to the Fellows'. A personalized slideshow of their pictures and quotes regarding their Encore!Connecticut experience. Congratulations to all our graduates.